Simplified Customs Process to Benefit Emerging Domestic Brands
8 October 2016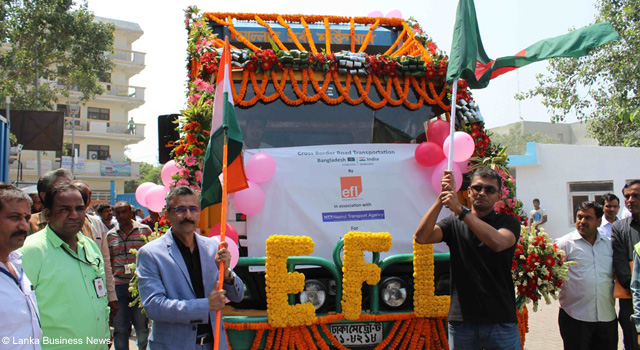 A new Customs inspection and verification procedure is changing how trade is conducted among South Asian countries. Through the Bangladesh-Bhutan-India-Nepal Motor Vehicles Agreement for the Regulation of Passenger and Cargo Vehicular Traffic (BBIN MVA), signed on 15 June 2015 in Thimphu, Bhutan, cargo and passenger vehicles may now pass through the four countries more smoothly.
For Sri Lanka freight forwarder Expo Freight (EFL), the new system opens opportunities for trade in the region. On 5 September, an EFL truck crossed seamlessly to India from Bangladesh carrying a shipment for Marks and Spencer. It was the first time a truck carrying cargo was allowed to cross to India from Bangladesh without requiring the consignment to be unloaded and transferred to another truck at the border.
The passage followed a new Customs and verification procedure that required an e-seal to be affixed to the truck in Bangladesh. The truck was monitored by Global Positioning System (GPS), which both Customs officials and international customers can use to track shipments.
Under the BBIN MVA, transit time for cargo trucks could be reduced by three days, while savings on logistics cost could be as high as 20%. Furthermore, by developing the routes into economic corridors, intraregional trade within South Asia could increase by almost 60%, and overall trade with the rest of the globe could increase by over 30%.
The simplified process greatly benefits apparel-centric economies, making South Asia more competitive not just for global brands, but for an emerging domestic sector looking at regional growth.
The Asian Development Bank, under the South Asia Subregional Economic Cooperation (SASEC) Program, is financing projects to improve major international and subregional trade corridors to promote easy transit in the BBIN subregion.
Related Links