Seminar Emphasizes Need to Attract More FDI for Nepal's Hydropower Sector
8 September 2016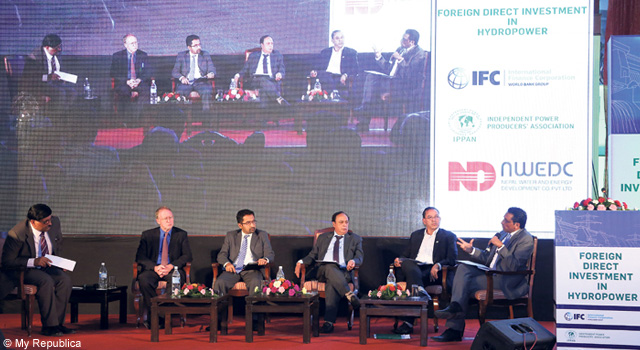 A 'Foreign Direct Investment (FDI) in Hydropower' forum organized by the International Finance Corporation (IFC), Independent Power Producers' Association of Nepal (IPPAN), and Nepal Water and Energy Development Company (NWEDC) in Kathmandu, Nepal, on 6 September 2016 emphasized the need to attract more FDI for Nepal hydropower projects.
According to Nepal Minister for Energy Janardan Sharma, Nepal needs more investment to be able to fully harness its hydropower capacity. He urged improvement of the licensing process and resolution of procedural hassles in signing the Power Purchase Agreement and Power Development Agreement to encourage foreign investors. He remarked how signing of the Nepal-India Power Trade Agreement has opened a huge market for Nepal's hydroelectricity.
The Government of Nepal has undertaken a policy to prioritize FDIs in the hydropower sector, which have been on the rise, albeit slowly, according to Mr. Maheshwor Neupane, Director General, Department of Industry, Nepal.
Mr. Choe Yong Jin, Ambassador of the Republic of Korea to Nepal, encouraged investments—through discussions by stakeholders and good governance—to tap into Nepal's hydropower potential. He expressed optimism that the Upper Trishuli I Hydropower Project under development by the NWEDC, comprising Korea-Southeast Power and IFC, will significantly add to the hydropower generated by Nepal.
Related Link: