Nepal Parliament Ratifies Protocol of Amendments to the Revised Kyoto Convention
9 September 2016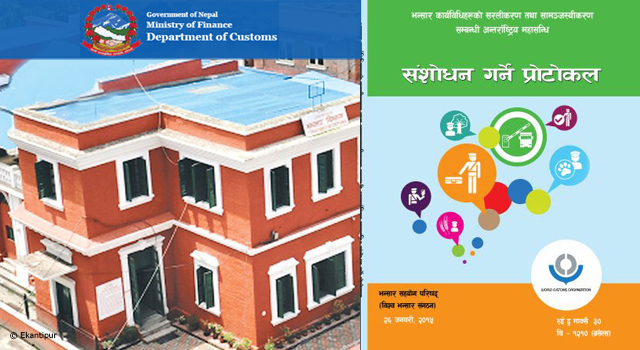 By Shyam Prasad Dahal
The Nepal Parliament ratified the Protocol of Amendments to the International Convention on the Simplification and Harmonization of Customs Procedure (Revised Kyoto Convention [RKC]) on September 2016, tabled by Mr. Krishna Bahadur Mahara, Nepal Deputy Prime Minister and Finance Minister. An earlier cabinet decision on RKC accession paved the way for submission of the proposal through the Ministry of Finance to the legislative parliament for ratification. The ratification makes Nepal a party to the World Customs Organization (WCO) instrument, and is expected to boost the capacity of Nepal Customs to facilitate trade.
Accession to the RKC enables Nepal to modernize its Customs procedures and harmonize them with international standards. It showcases Nepal's Customs reform and modernization initiatives to the international community.
Mr. Mahara highlighted that RKC accession will help Nepal facilitate legitimate international trade while effecting Customs controls for the protection of security, health, and environment, as well as for efficient Customs revenue collection. It is also expected to contribute to the reduction of international trade costs, and help frame predictable and transparent legal provisions for trade.
Nepal began its accession process in 2011. With assistance from the WCO, the Asian Development Bank (ADB), and other development partners, the Nepal Department of Customs worked to address identified gaps between the practical and legal framework of Nepal and the General Annex of the RKC.
Nepal's accession to the RKC is one of the key outputs of the ADB-financed regional SASEC Trade Facilitation Program, approved in November 2012. The ADB-administered technical assistance 'Nepal: Supporting Participation in the SASEC Trade Facilitation Program', approved and funded by the Japan Fund for Poverty Reduction in September 2013, provided additional support for Nepal's accession to the RKC. The technical assistance project has proposed amendments to the existing Customs legislation to comply with the RKC General Annex, translated and published a Nepali version of the RKC, and conducted workshops, seminars, and working group meetings on the RKC. It also developed concrete recommendations and an action plan for their implementation to improve legal frameworks for trade facilitation relating to the RKC and other international conventions on trade facilitation, to help Nepal Customs comply with RKC provisions.
The RKC was adopted by the WCO in June 1999 as a blueprint for modern and efficient Customs procedures in the 21st century. Its key governing principles include:
Transparency and predictability of Customs actions;
Standardization and simplification of the goods declaration and supporting documents;
Simplified procedures for Authorized Persons;
Maximum use of information technology;
Minimum necessary Customs control to ensure compliance with regulations;
Use of risk management and audit-based controls;
Coordinated interventions with other border agencies; and
Partnership with trade.
The RKC entered into force in February 2006. As of June 2016, 103 contracting parties have ratified the convention, which together account for at least 80% of the value of globally traded goods.
Related Links: