Southern Gujarat Chamber of Commerce and Industry Signs MoUs with Bangladesh Private Sector
26 August 2016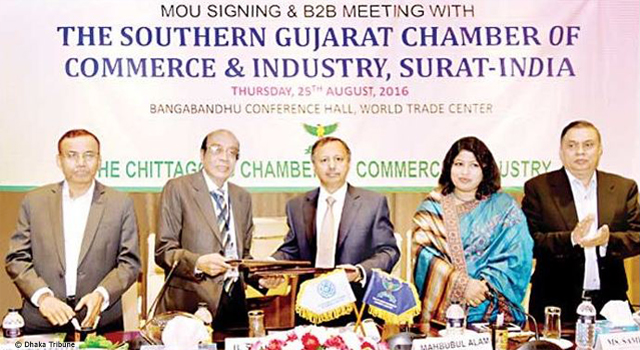 The Southern Gujarat Chamber of Commerce and Industry (SGCCI) undertook a 6-day visit to Bangladesh, and met with two Bangladesh private sector groups—the Dhaka Chamber of Commerce and Industry (DCCI) and the Chittagong Chamber of Commerce and Industry (CCCI)—to look into economic opportunities India and Bangladesh could tap. SGCCI signed memorandums of understanding (MoUs) with DCCI on 21 August 2016 in Dhaka, and with CCCI on 25 August 2016 in Chittagong, to explore new areas of cooperation and boost bilateral trade relations.
In Dhaka, the SGCCI visited two apparel factories.
In Chittagong, the SGCCI visited Chittagong's Export Processing Zone in Pahartali, to see the different industries represented. SGCCI and CCCI held a business-to-business meeting, discussing issues, ideas, and expectations in doing business with each other.
Mr. Mahbubul Alam, CCCI President, promoted investment in Chittagong to businessmen from southern Gujarat, highlighting its huge geographic advantages and well-equipped facilities provided by the government.
Related Links: