Banglabandha Land Port Improvement to Support Rising Bangladesh-Nepal Trade
13 August 2016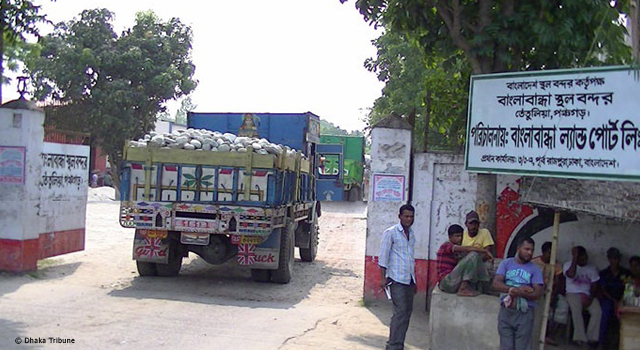 The Ministry of Shipping, Government of Bangladesh, has ordered upgrading of the Banglabandha Land Port (BLP) in northern Panchagarh to better facilitate Bangladesh's rising trade with Nepal. This includes improving and building new loading and unloading sheds—with capacity to accommodate 50 trucks at a time—and other needed infrastructure, such as warehouses, vehicle parking, and the road leading to the port, according to Mr. Tapan Kumar Chakraborty, BLP Chairman. A private company has been engaged, with target completion within 6 months.
BLP has also taken into consideration planned implementation of the Bangladesh-Bhutan-India-Nepal Motor Vehicles Agreement, which is expected to further add to the current trade volume.
Bangladesh's monthly exports to Nepal are estimated at $2.2 million. BLP, which offers the most convenience to exporters, caters to around 35–40 trucks carrying Nepal-bound goods daily.
Limited shed capacity of the land port hinders efficiency of loading and unloading of goods, leading to delays in exportation. This, along with inadequate waiting areas, forces some trucks from Bangladesh to load and unload their cargo in the open, threatening to damage shipments.
Bangladesh traders are also requesting the Ministry of Shipping to agree on coordinated weekend schedules for land ports of Bangladesh and India—through which Nepal products are routed—to further lessen delays.
Related Link: