Bhomra, Sheola, Thegamukh Ports under BBIN to Benefit Region
11 August 2016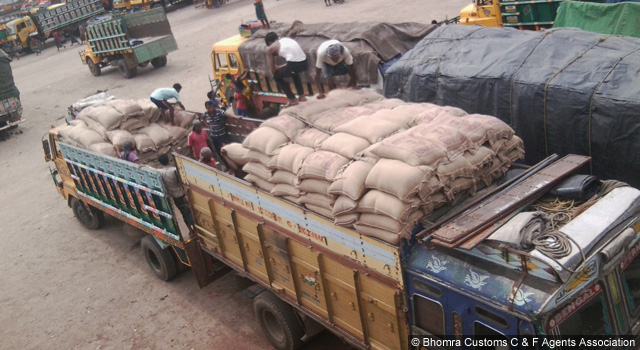 Development of infrastructure at Sheola, Thegamukh, and Bhomra land ports under the Bangladesh, Bhutan, India, Nepal (BBIN) initiative for regional connectivity will increase economic activity, according to a feasibility study report. The report, jointly undertaken by firms from India and the People's Republic of China, was presented at a National Public Consultation Workshop in Bangladesh on 10 August 2016.
Infrastructure for the land ports would significantly lower import and export costs and benefit people in the region, said the report. It added that infrastructure development will not have any adverse environmental impact.
The Bhomra land port in Bangladesh is near Kolkata, India. The projected decrease in import-export costs is expected to benefit businesses in both countries.
The Government of Bangladesh is set to develop Sheola, Thegamukh, and Bhomra land ports in order to stimulate economic activity, said Mr. Shajahan Khan, Bangladesh Shipping Minister, at the workshop. Developing these three ports will help expand Bangladesh trade with India, he added. The minister said the three land ports will be developed under BBIN initiative with financial assistance from the World Bank.
Mr. Tapan Kumar Chakravorty, Chairperson, Bangladesh Land Port Authority (BLPA), chaired the opening session of the daylong workshop on Environmental and Social Assessment Studies of proposed Bangladesh Regional Connectivity Project. Mr. Md. Rafiqul Islam, Additional Secretary, Bangladesh Shipping Ministry, BLPA member Mr. Meshkat Ahmed Chowdhury, and architect Mr. Iqbal Habib spoke at the session.
Related Links: