India Begins Operations on the Varanasi-Haldia River Route
14 August 2016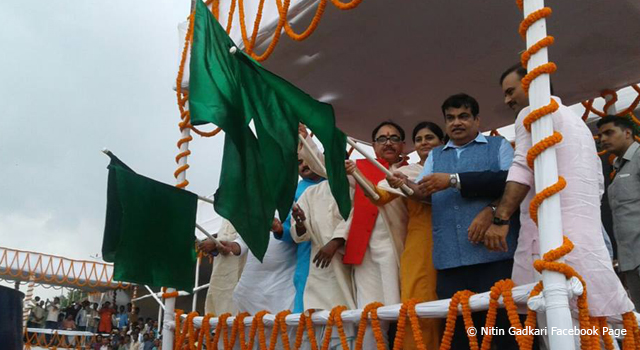 India, on 12 August 2016, launched operations on the Varanasi-Haldia inland waterway route, which is part of the 1,620 kilometer (km) National Waterway 1 (NW-1), or the Ganga-Bhagirathi-Hooghly river system, running from Haldia to Allahabad across the Ganges, Bhagirathi and Hooghly river systems. NW-1 passes through the Indian states of Uttar Pradesh, Bihar, Jharkhand and West Bengal.
Mr. Nitin Gadkari, Road Transport and Shipping Minister, India, led the inauguration, laying the foundation stone for the Varanasi inland waterway terminal, and flagging off a trial run of two cargo vessels from Varanasi to Haldia Port near Kolkata, a route that touches Nepal's two major rivers—Koshi and Gandaki.
Several other multimodal terminals are being built along NW-1, including terminals in Sahibganj, Kalughat, Ghazipur and Haldia, reports Mr. Gadkari.
In April 2016, the National Waterways Bill—prioritizing development of inland waterways to promote use of India's 111 rivers—was passed by the Indian Parliament. India aims to increase goods traffic on rivers from 3.6% in 2016, to 7% by 2018 to help cut down logistical costs.
According to observers, Nepal could also benefit from lower transit costs by building facilities for river transport of goods. In 1997, India and Nepal had agreed to start research on river navigation between the two countries during a visit by then Indian Prime Minister Shri Inder Kumar Gujral.
Related Links: