Connectivity with Bangladesh Integral to India's Act East Policy
8 August 2016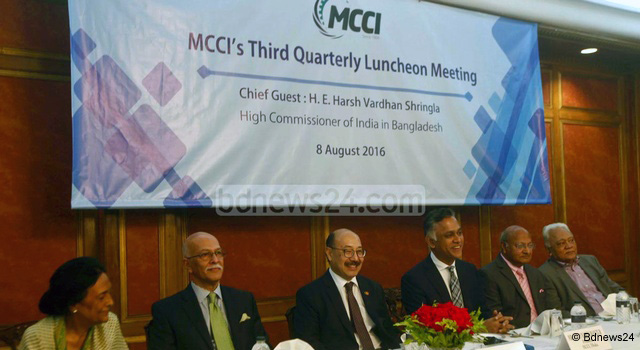 India is upbeat on India-Bangladesh bilateral relations, particularly on connectivity and bilateral trade. At the Metropolitan Chamber of Commerce and Industry meeting on 08 August 2016, Mr. Harsh Vardhan Shringla, High Commissioner of lndia to Bangladesh, said that India's Act East policy begins in Bangladesh and that Dhaka is an integral part and pillar of the policy.
Connectivity between India and Bangladesh has mushroomed in recent years, said Mr. Shringla, noting recent connectivity initiatives. Last year, bus services plying Dhaka-Shillong-Guwahati and Kolkata-Dhaka-Agartala were launched. A Kolkata-Khulna bus service is in the pipeline. Operational work on the Shahbazpur-Kulaurha and Chilhati-Haldibarhi rail links is ongoing as part of renewed efforts to link the two countries by rail. Connectivity through coastal waterways and inland waterways is also a priority for India and Bangladesh.
"The focus is on creating multi-modal transport links and facilitating easy cross-border movement of goods and people," Mr. Shringla said. He further noted Bangladesh's strategic location between South Asia and Southeast Asia and the opportunity to reap global benefits owing to this location.
Related Link: