Bangladesh Seeks to Deepen Ties with ASEAN
8 August 2016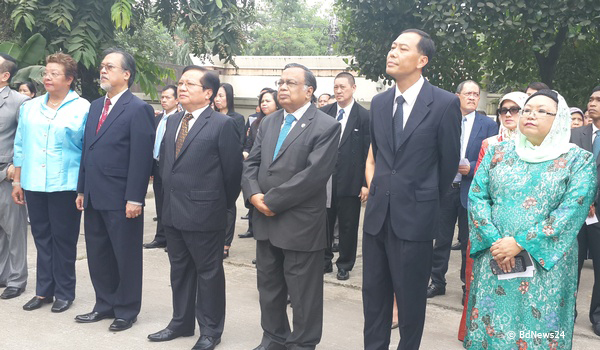 Bangladesh is seeking to become a dialogue partner of the Association of Southeast Asian Nations (ASEAN), to deepen Bangladesh-ASEAN economic, political, and cultural connectivity. Formalization of ties will promote trade flow, investment, and cultural exchanges between South and Southeast Asia, emphasized Bangladesh Foreign Minister AH Mahmood Ali.
Delivering a speech at the 3rd ASEAN Flag Raising Ceremony held at the Indonesian Embassy in Dhaka, Bangladesh, Mr. Ali lauded ASEAN's success as a regional grouping, and shared that it is an important foreign policy aspiration of Prime Minister Sheikh Hasina's Government to intensify Bangladesh-ASEAN relations.
Highlighting ASEAN's economic potential, Mr. Ali remarked how, beginning with the aim to reduce trade tariffs, ASEAN became a dynamic open market of 600 million consumers, with a large and competitive production base. He highlighted remarkable increase of ASEAN's international trade, and growth of its manufacturing and trade. According to Mr. Ali, bridging South and South East Asia will ensure shared prosperity of the two regions.
The flag raising ceremony commemorates ASEAN's 49th anniversary. It was attended by Ambassadors of Indonesia, Malaysia, Myanmar, Philippines, Thailand, Vietnam, Brunei Darussalam, and Singapore. In September 2013, an ASEAN-Dhaka Committee was established upon approval of the ASEAN Secretariat.
Related Links: