Visakhapatnam Port Getting Ready for Nepal's Third Country Trade
6 August 2016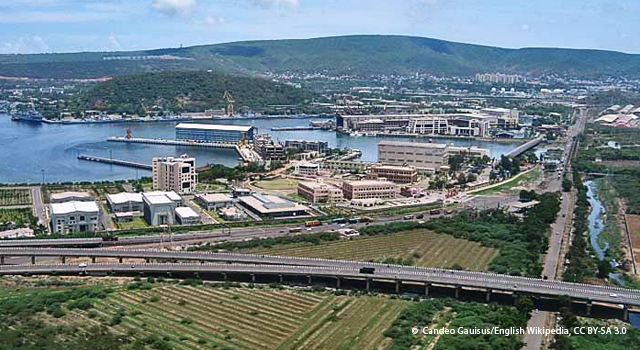 A meeting between Nepal private sector representatives, including members of the Nepalese Chambers of Commerce and Industry, the Nepal Freight Forwarders' Association (NEFFA), and India port authorities from Kolkata and Visakhapatnam, on 5 August 2016 in Kathmandu, Nepal discussed measures needed to bring India's Visakhapatnam Port into full-fledged operation for Nepal's third country trade.
Indian port authorities also pledged to simplify the clearing process for Nepal-bound cargoes, and requested Nepali traders to make a list of hurdles they face at the port and recommend measures to simplify procedural delays.
Mr. Sushil Mulchandani, Chief Executive Officer, Visakhapatnam Port, reported that Visakhapatnam Port is prepared to handle Nepal-bound containers, with tariffs already declared by the Container Corporation of India.
Landlocked Nepal is heavily dependent on third countries for supply of industrial raw materials, so minimizing cost of trade is important, emphasized Mr. Som Lal Subedi, Chief Secretary, Nepal.
A study by NEFFA revealed conducting trade through Visakhapatnam Port could slash the cost of Nepal's third country trade by 15%. Its deep container terminal is advantageous in terms of ocean freight and liner detention, with its permissible draft of 15 meters and length over all for vessel to berth of up to 320 meters. It can handle an estimated 0.7 million 20-foot equivalent units. Other benefits of using Vizag Port include:
Updated infrastructure;
Good vessel management services;
Less traffic congestion, helping avoid detention charges of cargo; and
Fully computerized system for facilitating cargo movement, allowing traders to track containers remotely from Nepal.
Nepali traders are requesting a comprehensive cost analysis, with transport cost from Visakhapatnam to Birgunj included. Mr. Rajan Sharma of NEFFA also urged amendment of the Railway Service Agreement between Nepal and India to boost Nepal's third country trade through Visakhapatnam Port.
Mr. Posh Raj Pandey, Executive Chairman, South Asia Watch on Trade, Economics and Environment, highlighted the need to set up a government office at Visakhapatnam Port to look after Nepal-bound cargoes, along with a warehousing facility. He said the bilateral transit treaty must also be updated, to ensure smooth operation of the new port.
Kolkata Port Trust, through its Traffic Manager, Mr. Gautam Gupta, also reaffirmed commitment to facilitate Nepal's trade. According to Mr. Gupta, Kolkata Port plans to upgrade its facilities starting September, by expanding yard capacity, simplifying procedures for Nepali traders, and improving railway connectivity. Kolkata Port is also planning to introduce online documentation processes.
Related Links:
Photo by Candeo Gauisus