Investment Board Nepal Endorses Energy Demand and Supply Study
22 July 2016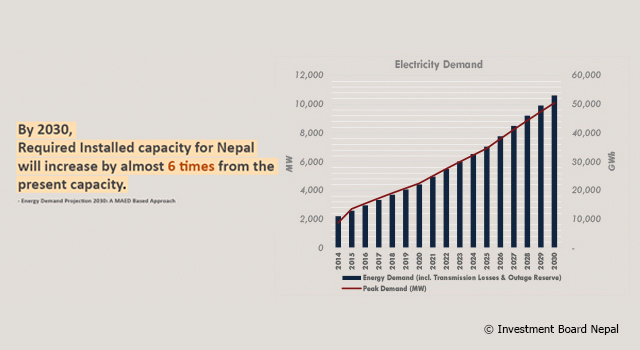 The 24th meeting of the Investment Board Nepal (IBN) endorsed the "National Energy Demand and Supply Study," which was undertaken to address the issue of latent demand for energy, and come up with a more realistic demand forecast.
According to the study, Nepal's energy demand will reach around 10,000 megawatts by 2030, if gross domestic product grows at a constant 5% per annum. The study also highlights that electricity will have dominant share of energy in Nepali households by 2030, as reliance on traditional fuels decreases.
IBN directed the National Planning Commission, through the Office of the Prime Minister and Council of Ministers, to draft necessary policies, plans, and programs incorporating recommendations of the study.
The Nepal Power Investment Summit 2016 held in June 2016 declared that Nepal needs $20 billion to develop 10,000 megawatts (MW) through on-grid hydropower projects in the next decade, and $5 billion for high voltage transmission line projects to be completed by 2035, with the aim of generating
13,700 MW of hydroelectricity by 2025, and exporting 12,000 MW; and
44,000 MW by 2035, and exporting 24,000 MW.
The Nepal Electricity Authority (NEA) estimates the current energy deficit in the country stands at 45%. Current total 829 MW installed capacity includes 776 MW of hydroelectricity and 53 MW of electricity generated through thermal plants. During winter, only 300 MW is generated. According to NEA, only 58% of the population has access to electricity.
Related Links: