Prime Ministers of Bangladesh and India Jointly Dedicate Largest South Asia Land Customs Station
21 July 2016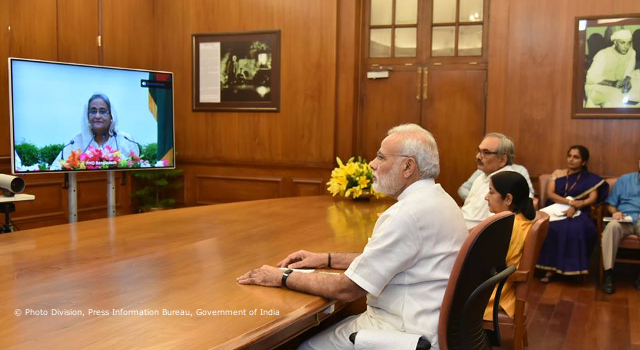 India Prime Minister Narendra Modi and Bangladesh Prime Minister Sheikh Hasina jointly inaugurated the Petrapole Integrated Checkpost (ICP), the only land port in South Bengal and the largest land Customs station in South Asia, on 21 July 2016 through a video conference. They were joined by Ms. Mamata Banerjee, Chief Minister of West Bengal.
Prime Minister Modi lauded the event as an important milestone in India-Bangladesh relations, providing a boost to bilateral connectivity and trade, and serving the welfare of the community who use the Petrapole-Benapole land crossing. He expressed confidence that the Petrapole ICP will foster even greater economic integration and connectivity between India and Bangladesh.
Bangladesh Prime Minister Hasina said that the ICP will further enhance good relations between the two countries by strengthening people-to-people communication and business relations.
The newly-dedicated ICP aims to facilitate smoother cross-border movement of people and goods by providing improved security and scanning equipment, and Customs and immigration services. It will also have weighbridges, currency exchange booths, internet facility, cargo inspection sheds, warehousing and cold storage.
More than 50% of Bangladesh-India trade passes through the Petrapole-Benapole border. An estimated 1.5 million people and 150,000 trucks cross this land border every year.
Related Links: