Commentary: 800 Million Reasons
20 July 2016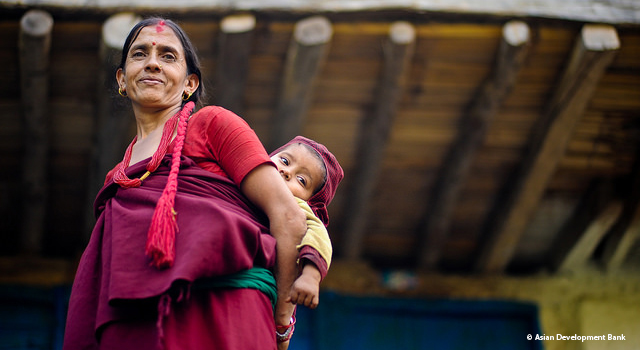 Regional cooperation and integration (RCI) is key to helping achieve the Asian Development Bank's (ADB) vision of an Asia and Pacific free of poverty. As one of ADB's core development agendas, it offers a "win-win" outcome for the region's economies – supplementing individual programs at the country level and covering more countries under a broader scope.
Mr. Hun Kim, Director General, South Asia Department, ADB, describes how partnership of 6 South Asian countries through the ADB-supported South Asia Subregional Economic Cooperation (SASEC) Program is helping propel economic growth in South Asia, amidst an uncertain regional and global economic climate, by working to increase trade volumes to reduce the number of impoverished people in the region.
800 Million Reasons
By Hun Kim
South Asia is set to become the fastest growing region in Asia. Led by a booming India, which is expected to grow by nearly eight percent in 2017, the region is expected to expand at a blistering rate of 7.3 percent next year. As growth flags in some other parts of Asia and the Pacific, in South Asia there are more jobs being created and more opportunities to do business than ever before.
But this sunny forecast does not tell the whole story. A quarter of the world's population live in South Asia and more than 800 million of them are poor, living on less than $3.10 a day—a fairly typical poverty line for low and middle income countries. Or, to put it another way, more than 800 million people in South Asia survive daily on less than the cost of a cappuccino in New Delhi or Dhaka.
Fruits of partnership
Faced with this stark reality, six of the region's countries—Bangladesh, Bhutan, India, Maldives, Nepal and Sri Lanka—have concluded that they have a better chance of lifting people out of poverty if they work together. In 2001, Bangladesh, Bhutan, India, and Nepal formed the South Asia Subregional Economic Cooperation Program (SASEC), which Maldives and Sri Lanka joined in 2014.
The fruits of that partnership can be seen today in the region's prosperity. With the Asian Development Bank (ADB) as its secretariat, these countries have worked together to build power plants, highways, rail systems, and fiber optic networks to expand and improve internet access. They are further cooperating to make it easier to cross borders, do business and share information.
The reason for this cooperation is simple. The SASEC comprises countries with varying market sizes, geographies and abilities of governments to promote business. When economies work together, they can cover any deficiencies by tapping into the strengths of their neighbours. The SASEC is playing a vital role in propelling South Asia's economic growth in an uncertain regional and global economic climate. All told, the grouping's six member countries have undertaken 37 projects worth more than $6.75 billion in the last 15 years. But much work remains to be done.
Lack of integration
Regional cooperation works and, if promoted even more enthusiastically, could deliver huge gains to economies across Asia, including South Asia. According to one study, closer cooperation between Asian economies could generate an additional $176 billion to $285 billion per year for the region. According to another study, upgrading trading systems in South Asia to international standards would increase trade within the region by 75 percent and trade with the rest of the world by 22 percent.
Despite enormous efforts in linking its economies, South Asia remains one of the least integrated regions of the world. It accounts for just two percent of world trade and 1.7 percent of foreign direct investment worldwide. Trade within the region makes up less than six percent of its total trade.Compare that to its neighbouring region of East Asia, where more than half of all trade (55 percent) is within the region. In Latin America, the figure is 17 percent.
A new roadmap
These comparatively low trade volumes must rise if South Asia is to significantly reduce its number of impoverished people. Representatives of the SASEC countries met in New Delhi in May and will meet again in Colombo later this year to map out how best to take regional cooperation in South Asia to the next level.
At the meeting in New Delhi, they developed a 10 year plan—the SASEC Operational Plan 2016-2025—that could change the lives of hundreds of millions of people. The plan combines hard infrastructure—ports, roads, bridges, industrial corridors, power generation units and transmission links—with the crucial "software" components such as agreements, harmonised rules and regulations needed for the countries to share fully in the benefits.
And most importantly, the plan takes a hard-nosed approach to ensuring it has a direct impact on people's lives. New transport links, for example, are routed through areas where poverty is highest.
The leaders of the SASEC countries recognise the importance of this new plan. They have 800 million urgent reasons to make it work.

Related Links: