Visakhapatnam Port Inaugurated as Nepal's Second Gateway Port
23 June 2016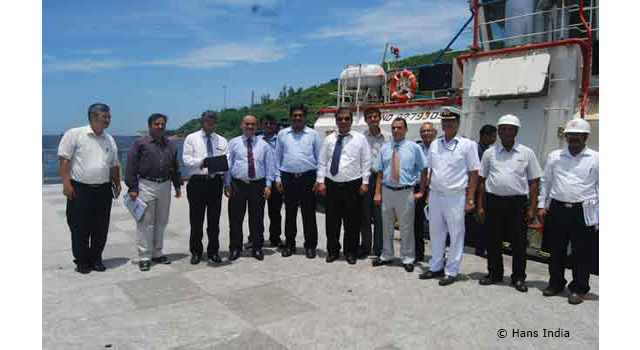 Cargo bound for Nepal was flagged off symbolically from Visakhapatnam Port in Andhra Pradesh, India, on 24 June 2016, signaling to traders that the port is ready to facilitate exports and imports as Nepal's second gateway port. Nepal Chief Secretary Somlal Subedi and Visakhapatnam Port Trust Chair MT Krishna Babu jointly led the ceremony.
The Nepal delegation, headed by Chief Secretary Subedi, arrived in Visakhapatnam on 23 June 2016 to see through implementation of the agreement between the Governments of India and Nepal providing landlocked Nepal with additional transit facilities. They met with India Customs officials, headed by Chief Commissioner of Customs, Central Excise and Service Tax R. Shakuntala to discuss modalities of cargo transit, including clearance, routed through Visakhapatnam Port.
The Visakhapatnam Port is an ideal gateway for Nepal's east-bound cargo, including shipments to/from China. Its deep container terminal is advantageous in terms of ocean freight and liner detention, with its permissible draft of 15 meters and length over all for vessel to berth of up to 320 meters. The port will be fully operational once procedural arrangements on issues including parking yard, turnaround period of shipping line containers, warehouse facility, grace period to release cargoes from port by road and by rail, have been concluded, shared Nepal Commerce Secretary Naindra Prasad Upadhyaya.
Access to Visakhapatnam Port will offer an alternative to Nepali traders—who have been routing exports and imports through Kolkata Port—and minimize high cost of trade with its effective and efficient services.
Four new road routes connecting Nepal to Visakhapatnam were also approved: Biratnagar-Visakhapatnam, Birgunj-Visakhapatnam, Bhairahawa-Visakhapatnam, and Nepalgunj-Visakhapatnam. At present, the traders will mainly use the Visakhapatnam-Jogbani as transit route.
Connectivity by rail along the Visakhapatnam-Birgunj route is also being proposed. The Birgunj Inland Container Depot is rail connected, with a distance of around 5.4 kilometers away form the Raxaoul station of Indian Railways. Chief Commissioner Shakuntala remarked that this new route would make a new beginning and strengthen the bond between the two countries.
The Indian Railways and East Coast Railway are committed to developing Visakhapatnam Port as a major container hub—being Nepal's second gateway port will drive container traffic in Visakhapatnam Port, according to Visakhapatnam Port Trust Divisional Railway Manager Chandralekha Mukherjee.
Visakhapatnam Port Trust plans to conduct a stakeholders meet with freight forwarders, traders, and Customs house agents from Nepal to discuss and clarify arrangements.
To further ease cargo being routed through Visakhapatnam Port, the Nepal Government is in talks with India to roll out direct onward movement of Nepal-bound cargoes to Birgunj dry port using an electronic data interchange system.
India in 2009 agreed in principle to allow Nepal to use the Visakhapatnam Port. In February 2016, the letter of exchange allowing Nepal to use the route was signed during Nepal Prime Minister KP Sharma Oli's visit to New Delhi.
Visakhapatnam Port is a major port in the planned Vizag-Chennai Industrial Corridor (VCIC), an Asian Development Bank supported project, which is expected to help unify India's domestic market, integrate its economy with Asia's global value chains, and support the Make in India initiative to spur manufacturing. VCIC will be constructed with world-class infrastructure supported by a major transport network. The VCIC is the first phase in the economic corridor development strategy of India.
Related Links: