Bhutan Standards Bureau Obtains Accreditation to Certify 3 Goods for Export
10 June 2016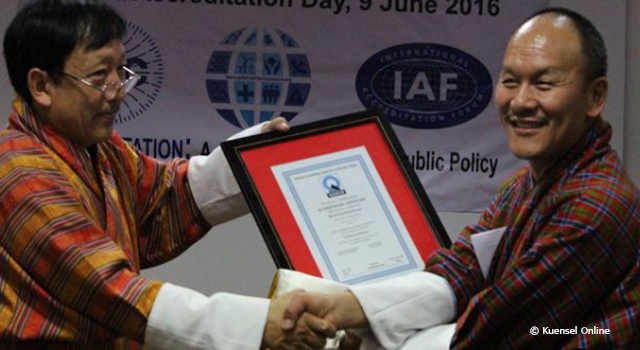 The Bhutan Standards Bureau (BSB) received accreditation from the National Accreditation Board for Certification Bodies (NABCB), India to certify three products, including grade 43 ordinary Portland cement, bitumen emulsion, and thermomechanically treated reinforcement bars, for export. BSB certification reduces technical barriers to trade, facilitating free movement for these three types of products across Bhutanese borders.
BSB certification reduces technical barriers to trade (TBT), facilitating free movement across borders for these three types of products. It enables Bhutanese manufacturers to obtain certification locally, and becomes another source of revenue for the country. Local manufacturers usually seek certification for a fee from the Bureau of Indian Standards to be able to export goods.
According to Mr. Karma Wangdi, BSB Chief Engineer, the Bureau is exploring measures to increase its scope of accreditation to include domestic wires and cables, and high-density polyethylene and polyvinyl chloride pipes.
Accreditation recognizes competence of a conformity assessment body—assessing its technical competence, compliance and effectiveness of management systems, and impartiality—based on internationally-acknowledged standards.
NABCB is the apex body for product certification in India. It is a signatory of the Pacific Accreditation Corporation, a signatory of the International Accreditation Forum.
BSB, an autonomous organization that coordinates and oversees all standardization and related activities in Bhutan, observed the World Accreditation Day on 9 June 2016 at a ceremony held in Thimphu, with the theme "Accreditation: a Global Tool to Support Public Policy."
The Asian Development Bank through the South Asia Subregional Economic Cooperation (SASEC) Program supported training of BSB technical officers on the International Organization for Standardization's ISO/IEC 17025, in Singapore in September 2015. ISO/IEC 17025 is the international laboratory management system standard that provides a framework of good management practices for laboratories performing testing and calibration.
The SASEC Trade Facilitation Strategic Framework 2014-2018 supports strengthening of standards and national conformity assessment boards in all SASEC countries, in order to break down sanitary/phytosanitary (SPS) and TBT measures. SPS/TBT are significant constraining factors in promoting effective and least cost intraregional trade.
Related Links: