Bangladesh-Nepal Commerce Secretary-level Meeting Move to Increase Bilateral Trade
12 May 2016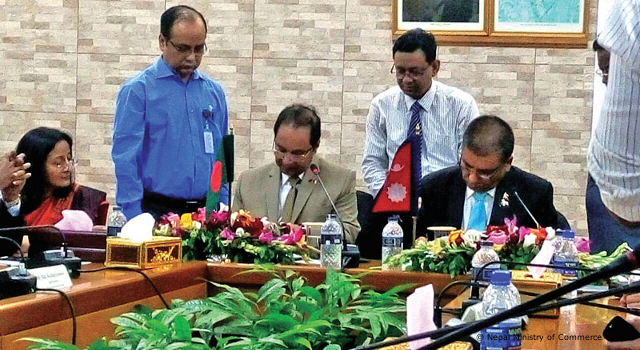 A bilateral meeting led by Bangladesh Senior Commerce Secretary Hedayetullah Al Mamoon and Nepal Commerce Secretary Naindra Prasad Upadhyay in Dhaka, Bangladesh on 11-12 May 2016 discussed promotion of bilateral trade, improvement of trade facilitation procedures, development of trade-related infrastructure, and reduction of non-tariff barriers, and initiated a number of measures to expand trade volume, including:
Signing of a memorandum of understanding between the Bangladesh Standard Testing Institute and the Nepal Bureau of Standards and Metrology for removal of technical barriers to trade; 
Agreement to harmonize sanitary and phytosanitary measures in agricultural products;
Discussion of potential mutual recognition agreement covering lab certification from both countries;
Endorsement of final list of products granted preferential market access, including 108 Nepali goods and 50 Bangladeshi goods; 
Formation of a technical committee for development of implementation modality of preferential market access for each other's goods;
Agreement to enhance facilities of land Customs stations, to facilitate increased trade between the two countries; 
Commitment by the Government of Bangladesh to improve Jamuna Bridge, to enable Nepal to access Mongla Port; 
Agreement to simplify visa and immigration process to promote tourism in both countries; and
Agreement to participate in trade fairs of both countries.
The delegation agreed to strengthen Bangladesh-Nepal connectivity through cooperation with India. Both countries agreed to bring the Singhabad, India-Rohanpur, Bangladesh rail transit facility into operation. Nepal also requested broad gauge conversion of the Radhikapur, India-Birol, Bangladesh rail line.
Bangladesh and Nepal are scheduled to observe each other's quality certification procedures and lab operations to address quality-related issues of traded goods, noted Nepal Commerce Secretary Upadhyay.
Related Links: