SASEC Member Countries Urged to Develop Synergies through Cooperation
10 May 2016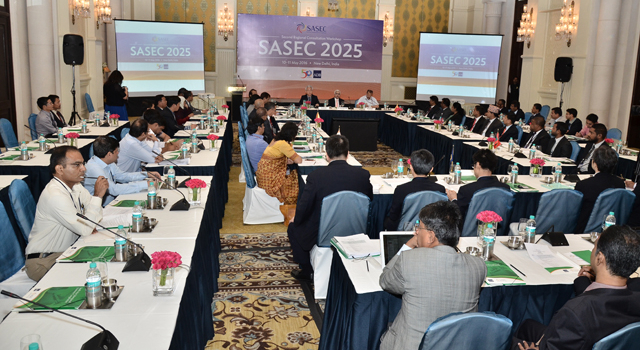 Mr. Shaktikanta Das, Secretary, Department of Economic Affairs (DEA), India called on member countries of the South Asia Subregional Economic Cooperation (SASEC) Program to work together through cooperation to develop synergies through mutual support, and urged the delegations to contribute in shaping a well-rounded SASEC 2025 vision document and operational plan, in his inaugural address at the Second Regional Consultation Workshop on SASEC 2025. He also emphasized India's continuous commitment to develop its close relations with its neighbors in South and Southeast Asia.
Highlighting SASEC's strength as a project-driven initiative that looks beyond bilateral bottlenecks, Mr. Das discussed how SASEC, with support of the Asian Development Bank (ADB), helps its 6 member countries—Bangladesh, Bhutan, India, the Maldives, Nepal and Sri Lanka—address challenges to growth and development, operating on the principle that regional cooperation complements national initiatives. He lauded ADB's regional approach to funding cross-border projects and national projects with regional dimensions, and implementing hardware and software solutions in tandem. Cross-border infrastructure projects implemented under SASEC are supported with necessary simplification and harmonization of procedures at the borders and improvements in testing and measurement facilities.
He also shared how SASEC provides a platform for dialogue and cooperation, including forming specialized forums on Customs—which aim to help the region realize its potential by helping improve trade facilitation procedures and processes—and electricity transmission to provide focused technical support. Cross-border cooperation among countries in the region could lead to shining initiatives such as the Bangladesh-Bhutan-India-Nepal (BBIN) Motor Vehicles Agreement(MVA), noted the DEA Secretary.
SASEC 2025 is the program's 10-year strategy and operational plan, laying out the road map to achieve the fundamental SASEC goal of increasing trade and economic cooperation within South Asia, creating linkages to East and Southeast Asia, and promoting sustained and inclusive economic growth through regional cooperation. The Workshop presented and discussed key elements of the proposed SASEC 2025 vision document, with representatives from 6 SASEC member countries in attendance.
Related Links: