Economic Cooperation Dialogue Highlights Need for Transport Corridors
25 April 2016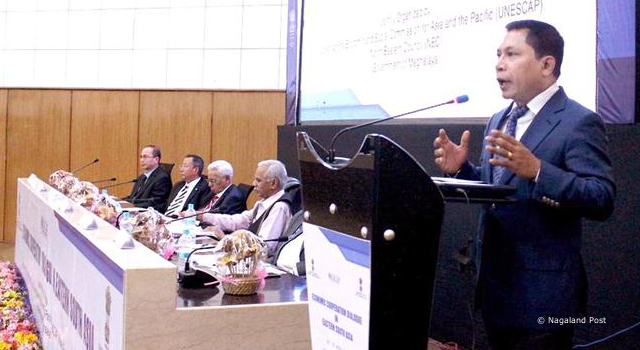 The Economic Cooperation Dialogue on Regional Connectivity and Border Special Development Zones in Eastern South Asia, jointly organized by the Government of Meghalaya (India), North Eastern Council, Government of India, and the United Nation Economic and Social Commission for Asia and the Pacific (UNESCAP), highlighted the importance of transport corridors to promote trade and economic cooperation in the region. The Dialogue, held on 25-26 April 2016 in Shillong, India, aimed to formulate an actionable policy agenda for improvement of border development through connectivity.
Developing transport corridors can turn constraints faced by the region's landlocked countries into opportunities, shared Dr. Nagesh Kumar, Head, UNESCAP Subregional Office for South and South-West Asia.
The geographic contiguity of countries in the region—Bangladesh, Bhutan, India, Myanmar, and Nepal—was emphasized by Mr. Syed Muazzem Ali, Bangladesh High Commissioner in India. He reported how Bangladesh is working on establishing links with its neighbors, including restoring connectivity with India's North East. Railways and river connectivity are the least expensive and most ecological and economically viable options.
The need for good connectivity infrastructure to support the region's trade corridors was stressed by Mr. Mukul Sangma, Meghalaya Chief Minister, India, who highlighted potential contribution of India's northeastern states to the growth of countries in the region. He talked about India's proposal to develop 20 rivers—4 of which are connected to Meghalaya, with 2 on the India-Bangladesh border. Border economic zones along international borders can bring about growth and prosperity, according to the Chief Minister.
The Dialogue was attended by senior government officials, policy makers, representatives from the diplomatic community, subregional groupings, multilateral development banks, donors, business leaders, think-tanks and the media.

Related Links: