Bangladesh Prime Minister, Visiting Indian Minister of State Discuss Cooperation
17 April 2016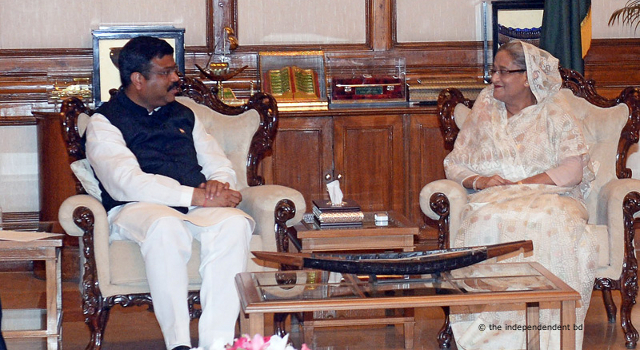 Bangladesh Prime Minister Sheikh Hasina called on neighboring countries to cooperate in the Bangladesh Government's efforts to become a developed nation. In a meeting with India's Minister of State on Independent Charge for Petroleum and Natural Gas, Mr. Dharmendra Pradhan, Prime Minister Hasina emphasized Bangladesh's focus on promoting connectivity. The Bangladesh Prime Minister believes the Bangladesh-Bhutan-India-Nepal (BBIN) initiative could play an effective role in developing the region. Preparations are also underway to set the Bangladesh-China-India-Myanmar (BCIM) Economic Corridor in place.
Minister Pradhan underscored India Prime Minister Narendra Modi's aim to build a new relationship with Bangladesh, based on a policy of goodwill and trust in India's cooperation with its neighbors. Prime Minister Hasina also invited foreign investments in the special economic zones being developed in Bangladesh, which will enable the country to achieve more.
The Bangladesh Prime Minister and the visiting India Minister of State also discussed boosting energy cooperation between the two countries.

Related Link: