India Ratifies the WTO Trade Facilitation Agreement
22 April 2016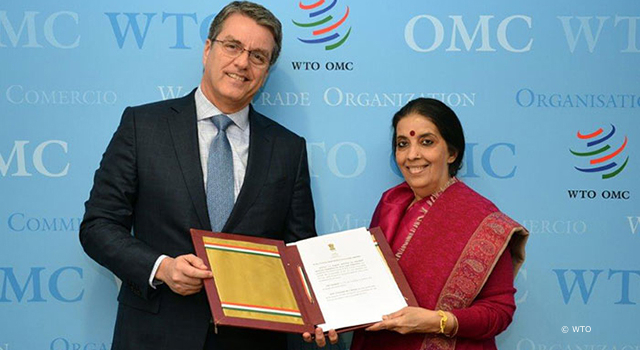 The Government of India has ratified the World Trade Organization Trade Facilitation Agreement (WTO TFA), submitting its instrument of acceptance on 22 April 2016. Ms. Anjali Prasad, Ambassador to WTO, India, handed over the instrument to WTO Director-General Roberto Azevêdo.
Director-General Azevêdo shared his pleasure on receiving India's instrument of ratification, and noted that TFA ratification will help reduce trade costs, further boosting India's economic growth and supporting its integration into the global economy.
India is the 76th WTO member to accept the Agreement, which will enter into force once two-thirds of WTO's 162 members have formally accepted.
On 18 March 2016, India submitted its Category A notification to the WTO, which indicates provisions of the TFA it intends to implement upon entry into force of the Agreement.
Ms. Nirmala Sitharaman, Commerce Minister, India described the Cabinet's decision to ratify the WTO TFA as a 'very important step' in February 2016. In a recent statement, she related how this move supplements India's ongoing reforms to bring in simplification and enhanced transparency in cross-border trade in goods.
Concluded at the WTO 2013 Bali Ministerial Conference, the TFA contains provisions for expediting the movement, release and clearance of goods, including goods in transit. It also sets out measures for effective cooperation between Customs and other appropriate authorities on trade facilitation and customs compliance issues. It further contains provisions for technical assistance and capacity building in this area.
Implementation of the TFA is an important milestone for developing and least-developed countries. A first in WTO history, the requirement to implement the Agreement was directly linked to the capacity of the country to do so. In addition, assistance and support through a Trade Facilitation Agreement Facility is also provided to help developing countries and LDCs achieve that capacity.
Related Links: