Interactive Meet Discusses Cooperation between Bhutan and India's North East
23 March 2016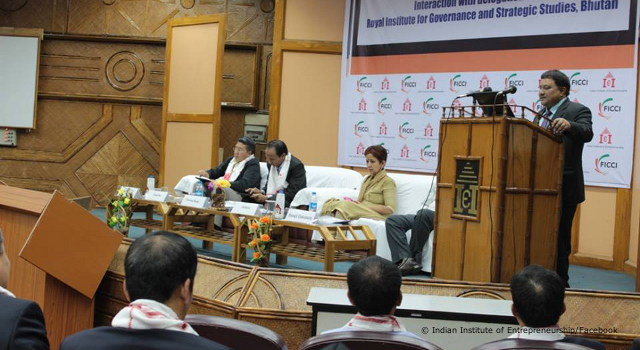 A 35-member delegation from Bhutan's Royal Institute for Governance and Strategic Studies, including senior policy makers and heads of various institutions, participated in an interactive session with representatives from the Indian Institute of Entrepreneurship (IIE) Guwahati and the Federation of Indian Chambers of Commerce. The Meeting discussed possible cooperation between Bhutan and India's North East in sectors including trade, commerce, hydropower, and tourism.
In his welcome remarks, Mr. Manoj K. Das, Director, IIE, lauded the renewed focus on building the relationship between Bhutan and the North East region of India as a timely and welcome step. Presentations on the scope of possible economic cooperation in the region, and upcoming connectivity projects in the Bangladesh-Bhutan-India-Nepal region were delivered.
The interactive meeting was held on 23 March 2016 at the Asian Confluence Center in Guwahati in the state of Assam, India. A delegation from India's North East is set to visit Bhutan to discuss tourism development.

Related Links: