Promoting Trade in the BBIN Subregion Dialogue Discusses Need to Reduce NTMs
2 April 2016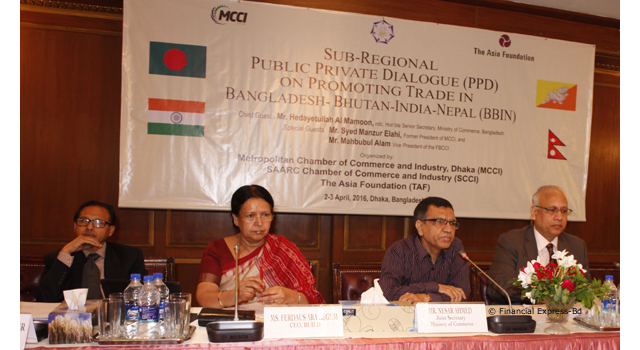 A Metropolitan Chamber of Commerce and Industry (MCCI) dialogue, in cooperation with the South Asian Association for Regional Cooperation (SAARC) Chamber of Commerce and Industry (CCI) and the Asia Foundation, on promoting trade in the Bangladesh-Bhutan-India-Nepal (BBIN) subregion discussed intra-regional trade in South Asia, which remain under 5% despite implementation of the South Asia Free Trade Agreement (SAFTA). According to Mr. Shaquib Quoreshi, Secretary, MCCI, non-tariff measures (NTMs) manifested as non-tariff barriers and para-tariff barriers lead to high transaction costs in cross-border trade, keeping trade volume low.
Studies on NTMs in South Asia report welfare gains for all countries amounting to $14.62 billion, with 25% reduction in transaction costs.
South Asia also faces a growing sensitive list, reported Mr. Quoreshi.
The sensitive list includes items that are exempted from low SAFTA tariffs. Ms. Federus Ara Begum, Chief Executive Officer, Business Initiative Leading Development, underscored the need to revise the sensitive list of SAARC member countries, to ease supply chain barriers that can contribute to significant growth in global trade.
Ms. L. Savithri, Director, SAARC Secretariat, highlighted the need to harmonize quality and standards across the region. She also stressed the urgency to implement the South Asia Subregional Economic Cooperation (SASEC) Road Connectivity Project and the BBIN Motor Vehicle Agreement to improve connectivity in the region. The SASEC Road Connectivity Project will promote regional connectivity in the subregion through investment in road construction, including land ports with Customs stations, to facilitate cross border trade.
The BBIN MVA is a landmark framework agreement designed to facilitate passenger, personal, and cargo vehicular cross-border traffic between and among the four countries to reduce costly and time-consuming transshipment of people and goods at border crossings, and create opportunities for greater economic exchanges along designated key trade routes in the four countries. 

Related Links: