Private Sector Representative: BBIN Corridor Trial Run Highlighted Scope for Development
2 April 2016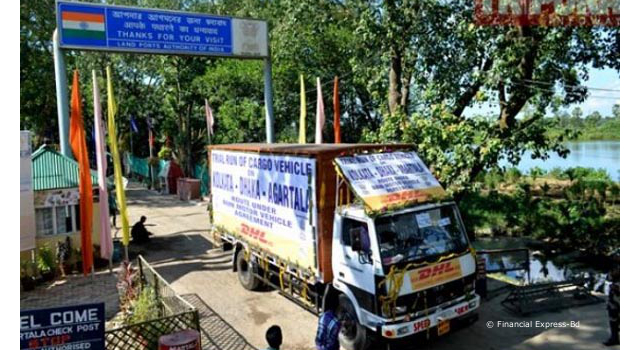 Dr. Pritam Banerjee, Senior Director, Corporate Public Policy (South Asia), Deutsche Post DHL, reported that the first trial run of cargo vehicles on the Kolkata-Dhaka-Agartala route under the Bangladesh-Bhutan-India-Nepal (BBIN) sub-regional framework held last November 2015, enabled a better understanding of future needs and solutions for safe and efficient movement of cargo across BBIN borders, including Customs clearance, vehicle and driver permits, GPS tracking of vehicles and upgradation of infrastructure.
Dr. Banerjee's presentation on the Kolkata-Dhaka-Agartala corridor—prepared for a dialogue on promoting trade in the BBIN subregion—identified the need to
Improve and upgrade narrow and congested highways;
Resolve visa issues for drivers and iron out online permits issued jointly by authorities of two countries; 
Improve border Customs infrastructure, including better approach to Petrapole and Brahmanbaria; and
Implement a formal transit document.
A statement issued by Dr. Banerjee after the dialogue also emphasized that the trial run underscored scope for further development and highlighted the importance of the corridor in linking and integrating economies in the BBIN subregion. He also lauded the high level of facilitation provided to DHL by participating Governments.
The dialogue was organized by the Metropolitan Chamber of Commerce and Industry (MCCI), in cooperation with the South Asian Association for Regional Cooperation Chamber of Commerce and Industry and the Asia Foundation, on 2 April 2016 in Dhaka, Bangladesh.

Related Links: