ICT and Energy Cooperation Take Bangladesh-India Relations to New Heights
23 March 2016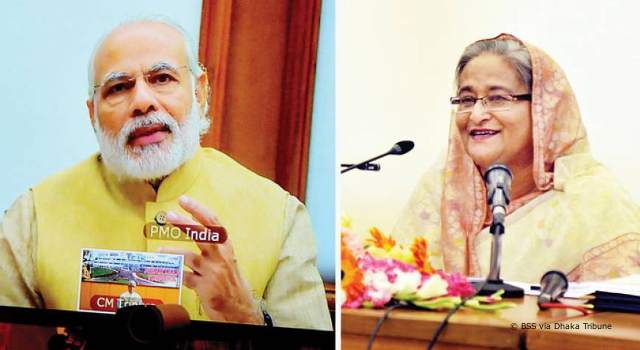 Bangladesh Prime Minister Sheikh Hasina and India Prime Minister Narendra Modi attended the inauguration through teleconference of an additional 100 megawatt (MW) electricity supply from India's Tripura state to Bangladesh's Comilla state, and the leasing of 10 GBPS of internet bandwidth from Bangladesh to India's Agartala state on 23 March 2016. The additional electricity will help meet energy demand in the southeastern part of Bangladesh, and brings power supply from India to 600 MW.
Speaking from Dhaka, Prime Minister Hasina noted the new heights reached in Bangladesh-India cooperation. Regional connectivity will further expand the potentials of regional cooperation, said Prime Minister Hasina.
Prime Minister Modi, who joined from his office in New Delhi, lauded Bangladesh-India relations, and said the two countries have set an example on how to build good neighborly relations. He added that this occasion opens a new internet gateway for Tripura and the rest of North East India, promoting the energy of development.
Prime Minister Hasina and Prime Minister Modi were joined by other high ranking officials from Bangladesh and India, including Bangladesh Foreign Minister Abul Hassan Mahmood Ali, Tripura Chief Minister Manik Sarkar, India External Affairs Minister Sushma Swaraj, India Communication Minister Ravishankar Prasad, India Power Minister Piyush Goyal, and Indian High Commissioner to Bangladesh Harshvardhan Singla.
The Bangladesh-India Electrical Grid Interconnection project, a $158 million loan funded by the Asian Development Bank under the South Asia Subregional Economic Cooperation (SASEC) Program, contributed toward efforts of Bangladesh and India to establish cross-border interconnection between the western electrical grid of Bangladesh and the eastern electrical grid of India, facilitating the exchange of 500 MW of electricity between the two countries.
Related Links: