Bangladesh Prime Minister, Bhutan Queen Mother Discuss Growing Bilateral Ties
15 March 2016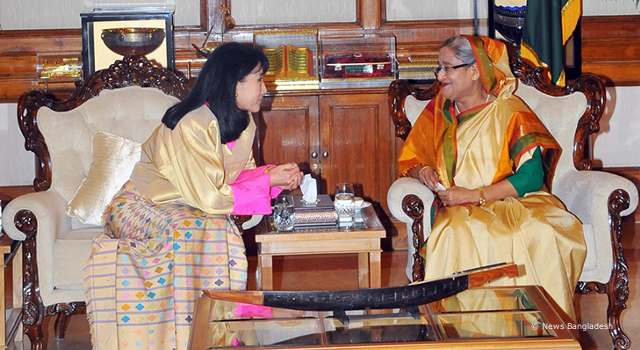 Bangladesh Prime Minister Sheikh Hasina and the Queen Mother of Bhutan Tshering Pem Wangchuk met on 15 March 2016, during a visit by the Queen Mother to Bangladesh.
Prime Minister Hasina expressed satisfaction over the growing engagement between Bangladesh and Bhutan. The Bangladesh-Bhutan-India-Nepal initiative, according to the Prime Minister, further widens the scope of cooperation between the two countries.
The Queen Mother of Bhutan likewise expressed the hope that bilateral relations between Bangladesh and Bhutan will continue to strengthen. She also lauded the socioeconomic developments achieved by the Bangladesh Prime Minister. 
Related Link: