ADB Supports Upgrade of Colombo Port through PPP
23 February 2016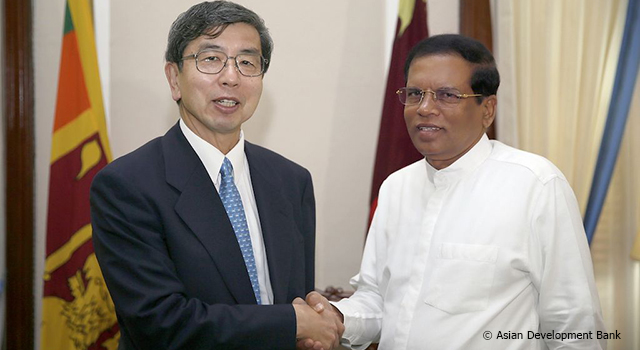 Sri Lanka's Colombo Port will be expanded through a public–private partnership (PPP) initiative, with support from the Asian Development Bank (ADB).
The Sri Lanka Ports Authority (SLPA) and ADB signed a transaction advisory services agreement on 23 February 2016, in the presence of Sri Lanka Finance Minister Ravi Karunanayake and ADB President Takehiko Nakao, to upgrade the port's East Container Terminal (ECT).
The project will bring leading operations and technology from the private sector to improve the port's value proposition to global shipping lines and increase its market share in the global trans-shipment market, said Ms. Sri Widowati, ADB Country Director for Sri Lanka. It will maintain Colombo Port's strategic position as a key trans-shipment hub for global and regional trade.
The $500 million project will
Operationalize the existing 400 meters of deep water berth; 
Supervise/implement the full design, build, finance, operation, and maintenance of the remaining 800 meters of berth.
The ECT concession is likely to run for 35 years.
The 400-meter berth at the terminal was constructed by SLPA with an investment of $80 million. In 2008, a $300 million loan from ADB financed the construction of the breakwater of the Colombo Port.
Transaction advisory services are provided by ADB to support the whole range of activities associated with the development and implementation of PPP projects—including project conceptualization, preparation and marketing, and negotiations. It is supervised by the ADB Office of Public–Private Partnership, established in September 2014, to enhance ADB's role in supporting and enabling member governments to secure greater private investment and generate economic growth in the region.

Related Links: