Regional Economic Connectivity Initiatives to Change Bangladesh Business Landscape
18 February 2016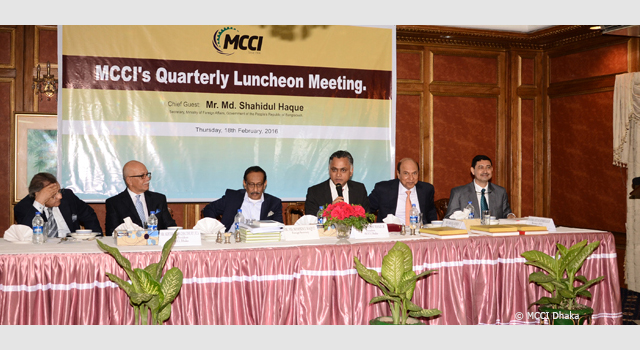 Regional economic connectivity initiatives can change the business landscape of Bangladesh by boosting the country's formal economy and regulating its informal economy, said Bangladesh Foreign Secretary Md. Shahidul Haque, speaking as Chief Guest at a meeting of the Metropolitan Chamber of Commerce and Industry (MCCI)-Dhaka on the 'Bangladesh Economy by 2030-35: Challenges, Prospects and Partnerships.'
He highlighted how the Bangladesh-Bhutan-India-Nepal Motor Vehicle Agreement (BBIN MVA), formed to allow multimodal connectivity across the four countries in South Asia, can boost subregional businesses. Under the BBIN MVA, 30 transport corridors will be transformed into economic corridors, with potential to increase intraregional trade in South Asia by nearly 60%, and international trade by 30%.
He expressed confidence that the BBIN MVA will be implemented soon, following ratification by the Government of Bhutan, and added that the BBIN countries are also in talks to set up a power grid line to facilitate sharing of electricity.
Other regional connectivity initiatives discussed include the Bangladesh-China-India-Myanmar corridor, a Japan-led initiative encompassing the Bay of Bengal, and a potential connectivity with India, Myanmar and Thailand (IMT) through the IMT Trilateral Highways.
According to MCCI President Syed Nasim Manzur, the geo-strategic location of Bangladesh offers immense opportunities for the country to reap the benefits of connectivity. Ongoing agreements and projects by the Government are already bolstering regional cooperation and coordination.
The landmark BBIN MVA was signed by the transport ministers of the BBIN countries in June 2015 in Thimphu, Bhutan. It aims to facilitate passenger, personal, and cargo vehicular cross-border traffic between and among the four countries to reduce costly and time-consuming transshipment of people and goods at border crossings, and create opportunities for greater economic exchanges along designated key trade routes in the four countries. The Asian Development Bank is the acting Secretariat of the BBIN platform.

Related Links: