India-Sri Lanka Joint Commission Highlight Areas for Cooperation
5 February 2016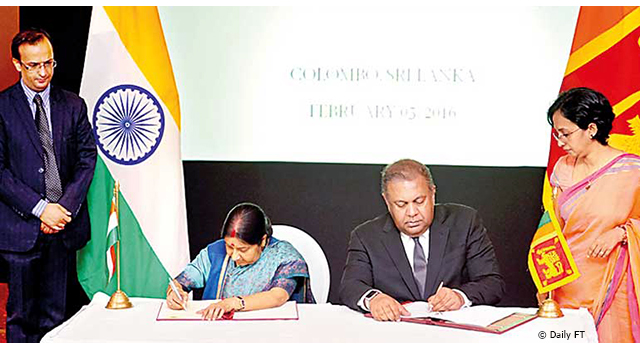 The 9th Session of the India-Sri Lanka Joint Commission, co-chaired by India External Affairs Minister Sushma Swaraj and Sri Lanka Foreign Affairs Minister Mangala Samaraweera in Colombo, Sri Lanka on 5 February 2016, discussed strengthening India-Sri Lanka cooperation in areas including economy and trade, power and energy, education, tourism, science and technology, agriculture, defense, fisheries, and health.
The two countries are also preparing to start negotiations on the Economic and Technology Cooperation Agreement (ETCA), which will deepen their bilateral engagement. The Joint Commission noted the importance of participation from the private and public sector, and the need to promote joint ventures among Indian and Sri Lankan investors.
The Joint Commission highlighted a need to fast-track the signing of a revised Air Services Agreement to expand air connectivity and boost cooperation in the aviation sector. Resumption of ferry services was also mentioned, including a probable cruise service between Colombo-Cochin-Male.
Closer collaboration in railway development and renewable energy was also bookmarked by the India-Sri Lanka Joint Commission. India's Railways Minister and delegates from India's Ministry of New and Renewable Energy will visit Sri Lanka in the coming months.
India External Affairs Minister Swaraj visited Sri Lanka on 5-6 February 2016. She also called on Sri Lanka President Maithripala Sirisena, Sri Lanka Prime Minister Ranil Wickremesinghe and former Sri Lanka President Chandrika Bandaranaike Kumaratunga to discuss issues of bilateral interests.
In March, a workshop on non-tariff barriers and phytosanitary barriers will be held by Indian officials in Sri Lanka to discuss Indian standards, regulations, certificate of origin and other measures with Sri Lankan exporters and officials.

Related Links: