2016 International Customs Day: Bangladesh National Board of Revenue
26 January 2016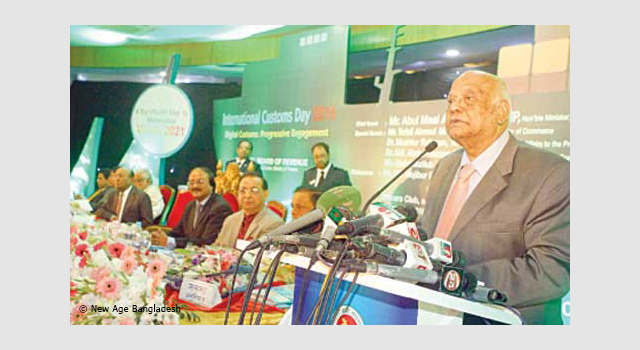 The Bangladesh National Board of Revenue (NBR) organized a seminar on digital Customs and progressive engagement on the occasion of International Customs Day on 26 January 2016 in Dhaka. Special guests included Bangladesh Commerce Minister Tofail Ahmed; Bangladesh Finance Minister Abul Maal Abdul Muhith; Bangladesh Economic Affairs Adviser to the Prime Minister Dr. Mashiur Rahman; Bangladesh Chairman of the Parliamentary Standing Committee on Finance Ministry Dr. M. Abdur Razzak; and Federation of Bangladesh Chambers of Commerce and Industry President Abdul Matlub Ahmad.
In his address, Finance Minister Muhith said the proposed Customs Act 2015 will be placed for approval of the national Parliament in the next budget session scheduled in May 2016. The Customs Act will automate and modernize Customs and business procedures for export-import by providing NBR with a broad legal basis for implementation of an electronic Customs administration.
The Seminar discussed features of the new Customs Act, including automation and introduction of additional international best practices. The Act will
Facilitate submission of electronic declarations for imports and exports, and advance cargo declarations for imports;
Introduce a green channel for compliant traders;
Include provisions on advance ruling to help traders receive advanced Customs decisions on issues related to valuation and classification of products; and 
Include a facility enabling traders to provide a bank guarantee, instead of duties and taxes for inward processing, outward processing and temporary importation.
Business leaders were encouraged to submit amendment proposals and recommendations for inclusion in the new Customs Act as soon as possible to allow the NBR to address these before the Act is submitted to Parliament.
The Seminar also awarded 20 Customs officials and business leaders with World Customs Organization (WCO) Certificates of Merit for their outstanding contribution to Bangladesh's Customs affairs.
International Customs Day is observed by Customs Administrations around the world on 26 January, in honor of the establishment of the WCO. This year's theme, "Digital Customs: Progressive Engagement", aims to actively showcase and promote the use of information and communication technologies in Customs administrations to improve collection and safeguarding of Customs duties; enhance control of the flow of goods, people, conveyances, and money; and boost security of cross-border trade worldwide.
On 17-20 August 2015, Bangladesh NBR and the Asian Development Bank jointly organized a national workshop to familiarize Customs and other border officials with provisions of the Customs Act 2015, including its processes and requirements, in relation to the existing act. The workshop increased knowledge and understanding about the new Customs Act, and gathered support and commitment from Government officials toward the implementation of the new Customs Act and achievement of its objectives.

Related Links: