Bangladesh-India Railway Links Top Priority for the Government of India
12 January 2016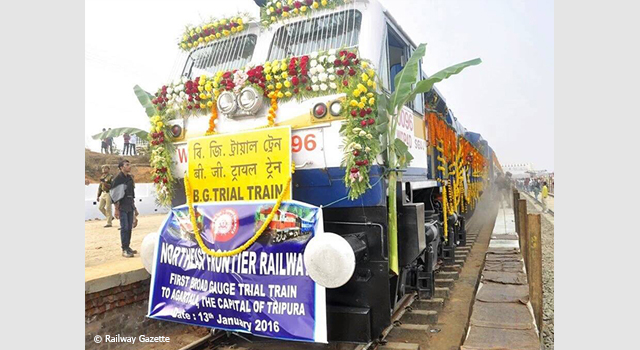 Indian Minister of State for Railways Manoj Sinha led a two-day visit to the northeastern state of Tripura to inaugurate its trial broad gauge passenger train connecting Agartala to Badarpur in Assam, and review progress of ongoing railway projects, including the Agartala-Akhaura railway project, which connects the rail networks of Bangladesh and India, and Agartala-Sabroom, a future connecting point for Chittagong port in Bangladesh.
According to Minister Sinha, the Agartala-Akhaura project, funded by the Government of India, is a top priority of Indian Prime Minister Modi's office. By 2020, the Government aims to connect all of the northeast's state capitals by rail.
The 15-kilometer Agartala-Akhaura railway project will reduce the 1,650-km distance between Agartala and Kolkata to 550 km. It was finalized in January 2010 during the visit of Bangladesh Prime Minister Sheikh Hasina to then Indian Prime Minister Manmohan Singh in New Delhi. It is also under consideration for inclusion in the Trans-Asia Railway network.

Related Links: