3rd Meeting of BBIN Joint Working Group on Subregional Cooperation, Dhaka
19 January 2016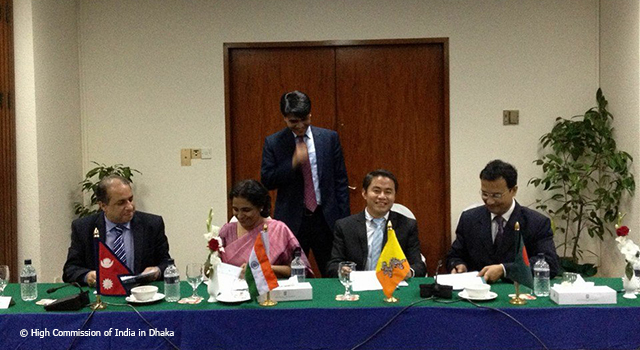 The third meeting of the Joint Working Group on Subregional Cooperation between Bangladesh, Bhutan, India and Nepal (BBIN) on Connectivity and Transit and Water Resources Management and Power/Hydropower, held in Dhaka, Bangladesh on 19-20 January 2016, deliberated new initiatives and identified potential areas for deepening cooperation.
Progress made under the BBIN Motor Vehicle Agreement was reviewed, and recommendations relevant to BBIN MVA process were put forward. The Joint Working Group also agreed to start discussions on the proposed BBIN Rail Agreement, which will draw on the draft SAARC Regional Rail Agreement.
The importance of land ports and land Customs stations for subregional trade and transit was also highlighted. It was agreed that the Joint Working Group give development and improvement in this area.
The Meeting also agreed to carry forward earlier discussions on the scope for power trade and inter-grid connectivity cooperation in future power projects and water resource management between the four countries.
An expert group will be created to facilitate exchange of best practices in power trade, inter-grid connectivity, water resources management, flood forecasting and other areas of possible cooperation.
The Bangladesh delegation was headed by Mr. Tareq Md. Ariful Islam, Director General (South Asia), Ministry of Foreign Affairs; the Bhutanese delegation was headed by Mr. Karma P. Dorji, Director, Department of Hydropower and Power Systems, Ministry of Economic Affairs; the Indian delegation was headed by Mr. Abhay Thakur, Joint Secretary (North) and Ms. Sripriya Ranganathan, Joint Secretary (BM), Ministry of External Affairs; and the Nepalese delegation was headed by Mr. Prakash Kumar Suvedi, Joint Secretary (South Asia), Ministry of Foreign Affairs.
The next Joint Working Group meeting is set to take place in the second half of 2016 in India.

Related Links: