WTO Nairobi Package Delivers Commitments to LDCs
19 December 2015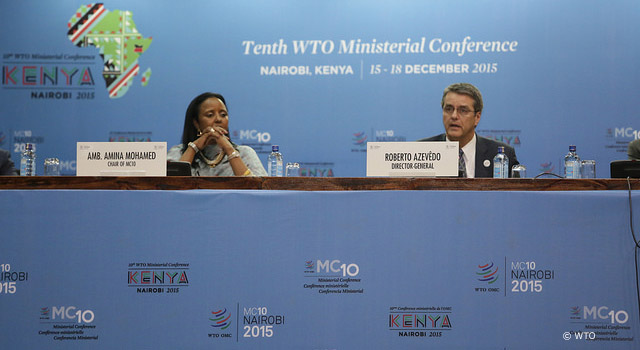 The World Trade Organization (WTO) 10th Ministerial Conference, held in Nairobi, Kenya, on 15-19 December 2015, agreed on a series of trade initiatives and decisions to benefit its least developed country (LDC) members.
Outcomes of the WTO 2015 Nairobi Package include:
Commitment to abolish export subsidies for agriculture exports, with immediate removal by developed members, and removal deadline of 2018 by developing members—excluding marketing and transport costs which developing member countries could subsidize until end 2023. Poor, food-importing countries were given flexibility to cut export subsidies at a later date.
Public stockholding for food security purposes—WTO Ministers re-affirmed a decision under the Bali Package to allow food stockpile programs, until a permanent solution to this issue is agreed on;
Special safeguard mechanism for developing countries;
Ministerial decision on cotton, which recommends duty-free and quota-free access to cotton from LDCs in markets of developed countries, and prohibits developed countries and, at a later date, developing countries from granting cotton export subsidies;
Preferential rules of origin, which builds on the 2013 Bali Ministerial Decision to help make it easier for LDC exports to qualify for preferential market access, calling on preference-granting members to allow use of up to 75% non-originating materials in the final value of the product, and simplify documentary and procedural requirements related to origin; and
15-year extension of preferential treatment for LDCs in the area of services until 31 December 2030 to increase LDC capacity and encourage their participation in trade services
A timetable to implement a landmark deal to eliminate tariffs on 201 information technology products valued at over $1.3 trillion per year was also agreed by WTO members. The WTO estimates around 65% of these tariffs will be eliminated by July 2016, and completely phased out by the end of 2019.

Related Links: