DCCI Seminar Highlights Need to Implement Trade Facilitation Measures in Bangladesh
1 December 2015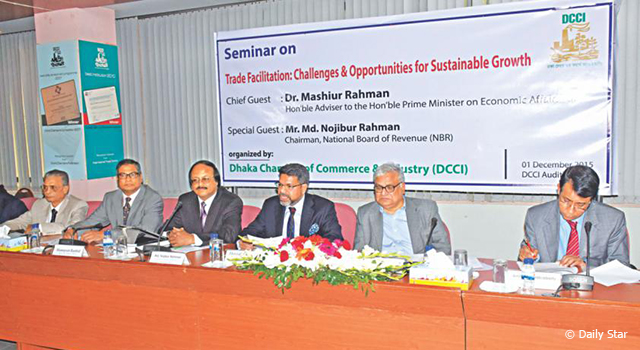 A seminar organized by the Dhaka Chamber of Commerce & Industry (DCCI) discussed 'Trade Facilitation: Opportunities and Challenges for Sustainable Growth' in Bangladesh, with Economic Adviser to the Prime Minister Dr. Mashiur Rahman as chief guest and Chairman of the National Board of Revenue Md. Nojibur Rahman as special guest. DCCI President Hossain Khaled chaired the seminar, held on 1 December 2015 in Dhaka.
Economic Adviser Dr. Mashiur Rahman emphasized that trade facilitation measures should boost trade and promote investments, not just bring in more revenue. He also recommended doing an economic analysis on trade facilitation measures to remove distortions. Efficient trade facilitation will ultimately help entrepreneurs by bringing down costs of doing business and promoting exploration of untapped markets. He further urged the Government to harmonize duties and taxes, and simplify procedures to attract foreign investors.
In his keynote paper, Dr. Khairuzzaman Mozumder, Deputy Chief of the United States Agency for International Development, said Bangladesh has fully complied with three measures in the WTO TFA—pre-shipment inspection; separation of release from final determination of duties/taxes/fees; and the establishment of a National Committee on Trade Facilitation. However, key challenges remain, including:
Average time for Customs clearance in both sea and land ports, which is still fall below acceptable limits for businesses, despite introduced measures in modernization and automation; and
Absence of an elaborate policy, detailed procedural guideline and strategic management plan on risk management—factors that contribute to the cumbersome and time-consuming process of examination of consignments, leading to higher costs for traders.
Implementation of the WTO TFA is estimated to lower the cost of doing business in Bangladesh by 16.5% and improve lead time by 10%. It is also expected to boost cross-border trade by 15%, adding $4 billion in annual export earnings and accelerating GDP growth to 8% by 2021, said Mr. Khaled, DCCI President.
Mr. Rahman, Chairman, NBR, said that trade facilitation is a priority for the agency—he mentioned that improvements in processes have cut down the average import clearance time at Chittagong Port to about 8 hours. He also discussed NBR's plan to coordinate with the private sector to achieve further improvements in the country's trade processes, in line with WTO TFA implementation.

Related Links: