Customs Cooperation, Bilateral Transport Agreement Discussed at Bangladesh-Bhutan Meeting
1 December 2015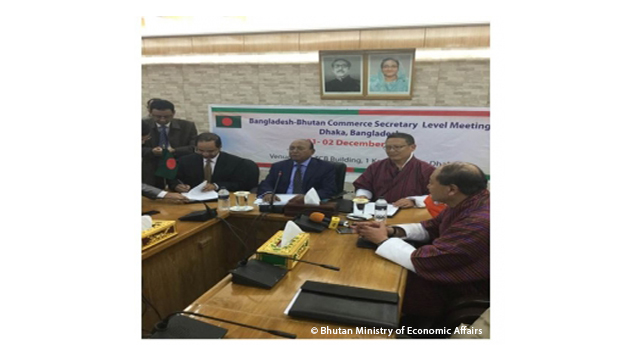 A 2-day meeting between Bangladesh and Bhutan headed by Commerce Secretaries took place in Dhaka on 1-2 December 2015. This meeting is in follow-up to the bilateral meeting that took place in Thimphu in April 2014. Outcomes of this year's meeting included a discussion on
Increasing products on the duty-free import/export list of both countries, including (i) boulders from Bhutan and 15 other products, and (ii) guava and pineapple from Bangladesh. Bhutan currently enjoys duty-free benefit on 18 of its products in Bangladesh, while Bangladesh receives zero-duty benefit on 90 products;
Potential hydropower imports from Bhutan to Bangladesh, with cooperation from India for transmission of energy;
Bilateral road and water transport agreement, to pave the way for implementation of the Bangladesh-Bhutan-India-Nepal Motor Vehicle Agreement. This will enable Bhutan to access Bangladesh's Chittagong Port, for export/import to/from a third country. Bangladesh and Bhutan agreed to form a joint working group to finalize protocols and work out an arrangement with India;
Customs cooperation, with both parties agreeing to formalize cooperation between the Bangladesh Standards and Testing Institution and Bhutan Standards Bureau to enable faster inspection of export and import goods and enhancing trade volumes through mutually accepted certificates;
Increasing bilateral trade by engaging cooperation of the private sector, through the Dhaka Chamber of Commerce and Industry and the Bhutan Chamber of Commerce and Industry;
Multiple-entry visas for Bangladeshi businessmen; and
Increasing tourism through cooperation.
Mr. Hedayetullah Al Mamoon, Senior Secretary, Ministry of Commerce, Bangladesh led a 17-member delegation, which included officials from the Ministry of Foreign Affairs, Ministry of Shipping, Ministry of Industries, Ministry of Home, Ministry of Agriculture, Ministry of Civil Aviation and Tourism, National Board of Revenue, Bangladesh Standards Testing Institution, Power Division, Road Transport and Highway Division, Bangladesh Tariff Commission, and Export Promotion Bureau. His counterpart, Mr. Dasho Yesi Wangdi, Economic Affairs Secretary, Ministry of Economic Affairs, Bhutan, led a 10-member delegation, comprising Bhutan's Ambassador to Bangladesh, senior officials from the Ministry of Economic Affairs, Ministry of Finance, Ministry of Agriculture and Forests, and Bhutan Standards Bureau.

Related Links: