Look Beyond Traditional Economic Thinking to Expand Economic Ties: Sri Lanka High Commissioner in Dhaka
12 November 2015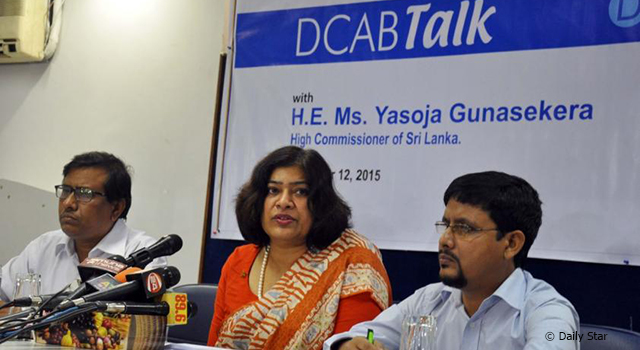 The Diplomatic Correspondents' Association Bangladesh (DCAB) hosted a 'DCAB talk' with Sri Lanka High Commissioner in Dhaka, Ms. Yasoja Gunasekera, on 12 November 2015. Ambassador Gunasekera said Sri Lanka is working toward expanding economic ties with Bangladesh for the two countries' mutual benefit.
Discussing the current $150 million two-way trade between Dhaka-Colombo as 'way below potential', she said Bangladesh and Sri Lanka, with their strategic location along the Bay of Bengal and partnerships with India and China, has enormous trade potential, if the two countries would look beyond traditional economic thinking and explore initiatives to promote economic cooperation, such as regional production chains. She invited Bangladeshi companies to invest in Sri Lanka. Currently, Sri Lankan companies in Bangladesh have already invested more than $300 million.
She highlighted both countries' mutual commitment to the objectives espoused by regional and inter-regional groupings, including the South Asian Association for Regional Cooperation (SAARC), Bay of Bengal Initiative for Multi-Sectoral Technical and Economic Cooperation (BIMSTEC), and Indian Ocean Rim Association (IORA), as well as the robust and warm relations between the two nations, based on mutual respect and sincere friendship.
Related Links: