Bangladesh and India Sign SOP on Coastal Shipping
15 November 2015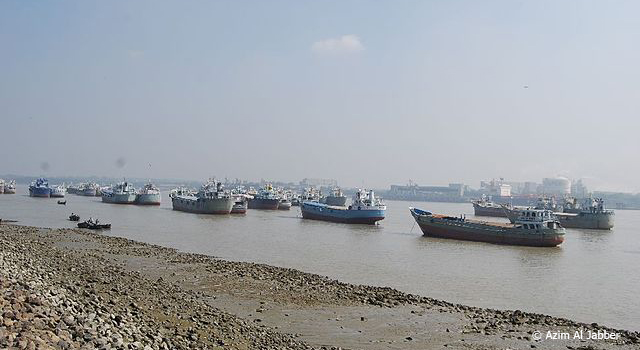 The Standard Operating Procedure (SOP) to operationalize the 'Agreement on Coastal Shipping' between Bangladesh and India—signed in June 2015—was inked on 15 November 2015 by the Ministry of Shipping, India and Department of Shipping, Bangladesh in the presence of India's Road, Highways and Shipping Minister Nitin Gadkari. India's Shipping Secretary Rajive Kumar and Bangladesh's Shipping Secretary Shafique Alam Mehdi were also present at the signing.
According to Minister Gadkari, once the SOP is operational, the Coastal Shipping Agreement will provide huge savings in logistics costs for EXIM cargo transport between the two countries, improving bilateral trade.
Provisions of the Agreement include:
Removal of bank guarantee requirement by the Bangladesh Government on each consignment of transit cargo;
Treatment of each other's vessels in a similar manner to their respective national vessels used in international sea transport; and
Use of vessels categorized as River Sea Vessel (RSV) for Indo-Bangladesh coastal shipping.
This Agreement will help improve movement of cargo to India's North East region by enabling coastal shipping to Bangladesh's Chittagong Port, and then using road/inland waterways for further transport. It will also increase cargo in Indian ports serving as trans-shipment hubs for cargo to Bangladesh.
The two parties also held talks on 16 November 2015 in New Delhi regarding a proposed agreement on passenger and cruise vessels. Both countries have agreed to sign the proposal to further promote coastal trade and shipping services. A draft memorandum of understanding on passenger and cruise services on the coastal and protocol route was drafted by the Secretaries of Bangladesh and India, to be formalized upon approval of their respective Governments, according to India's Shipping Ministry.

Related Links: