ADB Support for Bangladesh's Transformational Infrastructure Development
14 November 2015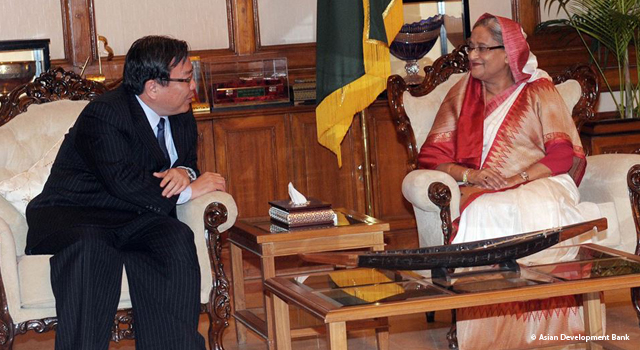 Asian Development Bank (ADB) Vice President Wencai Zhang pledged ADB's continuous support for Bangladesh's efforts on regional cooperation and integration in a meeting with Bangladesh Prime Minister Sheikh Hasina on 14 November 2015 in Dhaka. He highlighted concrete results of Bangladesh's participation in regional cooperation—such as the electricity grid interconnection with India, and signing of the Bangladesh-Bhutan-India-Nepal Motor Vehicles Agreement (BBIN MVA). He also discussed ADB plans to support Bangladesh's transformational infrastructure development, including the SASEC road corridor development and the Dhaka-Chittagong-Cox's Bazar dual-gauging and capacity expansion. This will provide strong foundations for economic corridor development, according to Vice President Zhang, anchoring it to regional connectivity and placing Bangladesh at the core of regional and global supply chains.
Prime Minister Hasina thanked Vice President Zhang for ADB support toward Bangladesh's development projects. She cited the BBIN MVA for paving the way for Bangladesh and its neighboring countries to use Bangladesh airports and the Mongla sea port. She and Vice President Zhang also discussed the possibility of a subregional power grid system under the BBIN framework.
In a speech delivered at the opening plenary of the Bangladesh Development Forum, Vice President Zhang said ADB is ready to provide $5 billion in assistance to Bangladesh over the next 3 years to support its growth and its aim of meeting the newly-endorsed Sustainable Development Goals. ADB will align its partnership strategy and program with the country's 7th Five Year Plan, which focuses on industrial development and export diversification, and private sector mobilization to provide the economy with greater resilience to external shocks.
Complementary enabling projects, including crop diversification and value-chain infrastructure development, skills for employment, and information technology parks for employment, will also receive support from the multilateral development bank.

Related Links: