THyE, Indian Banks Sign Loan Agreement for Nikachhu Hydropower
1 November 2015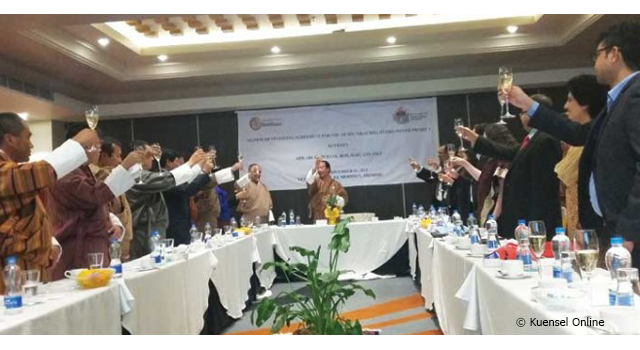 Bhutan's Tangsibji Hydro Energy Limited (ThyE), a subsidiary company of Druk Green Power Corporation (DGPC), and a consortium of Indian Banks, the State Bank of India (SBI) and EXIM, signed a loan agreement of around $53.5 million for the 118 megawatt Nikachhu hydropower plant on 1 November 2015 in Trongsa, Bhutan. SBI will lend around $37.8 million while EXIM bank will lend around $15.7 million. The Bank of Bhutan Limited will manage the loan account as trustee for the Indian rupee lenders. THyE is a special purpose company formed to build and manage the plant.
With total project costs of around $175 million, this private sector loan will be combined with DGPC funding of around $16.96 million and $120.5 million loan/grant assistance from the Asian Development Bank, approved in 2014, under the Second Green Power Development Project.
The public private partnership financing modality for the Nikacchu Project is the first of its kind in Bhutan. Other agreements were also signed on the occasion, including agreements on mortgage, power of attorney, guarantees, undertakings, pledge of share and inter-creditors agreement.
Power generated through the project will boost renewable energy generation in Bhutan, and further expand cross-border power trading in the region. To date, Bhutan is the only South Asian country with a surplus of power for export. This hydropower plant will contribute to the country's energy exports to India, and firm up Bhutan's strategy of exporting clean energy to generate revenue.
Related Links: