Conference in Dhaka Stresses Importance of SAARC Energy Cooperation
28 October 2015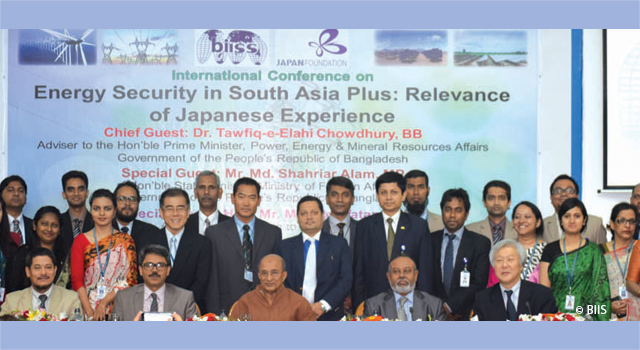 A 2-day international conference with the theme "Energy Security in South Asia Plus Relevance of Japanese Experience" was organized by the Bangladesh Institute of International and Strategic Studies (BIISS), in collaboration with the Japan Foundation, on 28-29 October 2015 in Dhaka, Bangladesh, to create dialogue among relevant stakeholders in South Asia on undertaking regional energy projects and increasing prioritization on the policy-level among policy makers and practitioners.
Attended by energy experts, researchers, scholars and policymakers from South Asian Association for Regional Cooperation (SAARC) member countries, together with delegates from Myanmar and Japan, the event highlighted the need for regional and subregional cooperation to fulfill growing energy needs in South Asia and promote energy security. It also discussed regional initiatives, including the SAARC energy ring, and proposals under other regional groupings, including Bangladesh-Bhutan-India-Nepal (BBIN), Bangladesh-China-India-Myanmar (BCIM), Bangladesh-Myanmar-India (BMI), and Bay of Bengal Initiative for Multi-Sectoral Technical and Economic Cooperation (BIMSTEC).
Former Power Secretary of India, Mr. RV Shahi, presented a paper which underscored how several efforts from recent years have already started yielding results in the BBIN subregion. He highlighted success stories, including the Bangladesh-India cross-border transmission project, and the Bhutan hydropower and Bhutan-India transmission projects. Mr. Shahi also lauded the governments of Bangladesh and India for their initiative to immediately expand the 500 megawatt HVDC system of Bangladesh and the Bangladesh-India transmission link. He also suggested a mega-scale transmission from Northeast India via Bangladesh.
Speaking as the Chief Guest of the conference, Foreign Minister of Bangladesh AH Mahmood Ali, said diversification is required for energy security. He emphasized the need to enhance private investment in the energy sector, which can intensify regional cooperation. He suggested following the path of Japan for ensuring energy efficiency to reduce both the cost and use of energy.
The Conference also discussed the region's hydropower potential – which stands at 58,900 MW, only 2.5% of which has been tapped – and possibility of trans-boundary trade among these countries.
The Asian Development Bank (ADB)-funded SASEC Program supports boosting power trade in South Asia, the improvement of cross-border electricity transmission connectivity in the SASEC subregion, and capacity-building in the energy sector. The Bangladesh-India Electrical Grid Interconnection Project, approved by ADB for funding in 2010, helps address significant power shortages in Bangladesh by establishing cross-border interconnection to facilitate energy flow from India. In September 2015, ADB approved the $183 million Second SASEC Bangladesh–India Electrical Grid Interconnection Project, which will double the capacity of the existing interconnection system from 500 MW to 1,000 MW. In Bhutan, the Green Power Development Project – a loan/ grant approved by ADB for funding in 2008 – increased India's access to clean energy exports from Bhutan.
Related Links: