Bhutan Moves to Modernize Customs Administration through New Customs Bill
5 November 2015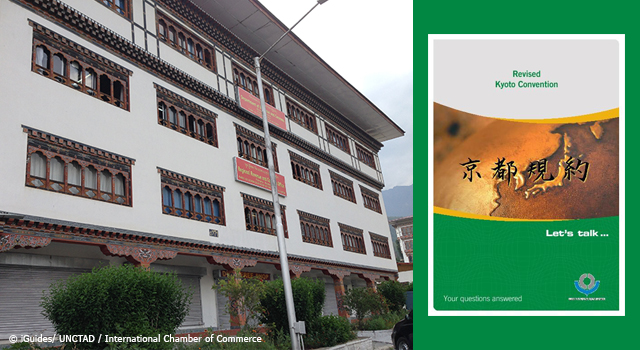 Bhutan Finance Minister Namgay Dorji presented the Customs Bill at the country's National Assembly on 5 November 2015: the Bill aims to modernize Bhutan's Customs administration and was drafted in accordance with standards of the Revised Kyoto Convention (RKC), which seeks to simplify and harmonize Customs procedures, and promote modern Customs practices globally. Aligning Bhutan with international standards and practices through the RKC will increase transparency and predictability of Customs actions, maximize use of information technology and automation, and promote risk management and audit-based controls, leading to economic and non-economic gains including increased revenue.
The proposed Customs Bill separates the Customs section from the Sales Tax, Customs and Excise Act of 2000 and its amendment of 2012, in an effort to facilitate faster release of goods and promote a conducive environment for foreign direct investment and economic competitiveness. According to Minister Dorji, the existing Act no longer meets requirements of today's trading system.
The proposed reform will empower the Government to impose restrictions or prohibitions on import and export of goods to safeguard national interests. These restrictions will be in accordance with relevant laws, international conventions, covenants, treaties, protocols and agreements.
The Customs Bill 2015 consists of 22 chapters and 202 sections. It will be deliberated by the National Assembly in the 2016 summer session.
Bhutan's Department of Revenue and Customs (DRC) conducted a 3-day consultation meeting in Paro, Bhutan on 10-12 September 2015, to present and discuss the draft Rules and Regulations associated with the new Customs Act to key Customs officials. The consultation meeting provided a platform to discuss and clarify issues related to Customs policy and procedures, simplify and harmonize the draft Customs Rules and Regulations 2015, and collect inputs and suggestions from Customs field officials for finalization of the Rules and Regulations 2015. A second consultation workshop is scheduled on 30 November-4 December 2015 in Phuentsholing, to review and finalize the revised draft Customs Rules and Regulations associated with the Customs Act of Bhutan. These workshops are organized and funded by the Asian Development Bank, through the Japan Fund for Poverty Reduction technical assistance project, "Supporting Participation in the SASEC Trade Facilitation Program".
Related Link:
Customs Bill to modernize customs administration