Taskforces to Promote SAARC Connectivity and Trade
30 September 2015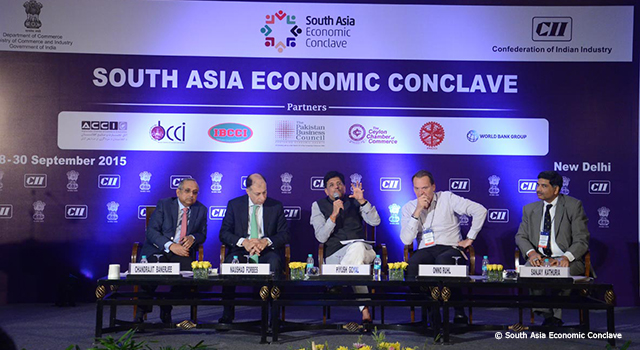 Taskforces in energy cooperation, trade facilitation, trade infrastructure, foreign direct investment, and people-to-people contact will be formed to promote connectivity and trade in the South Asia Association for Regional Cooperation (SAARC) region.
Mr. Piyush Goyal, India's State Minister for Power, Coal, and New and Renewable Energy, said the planned effort is in line with India Prime Minister Narendra Modi's vision of South Asian "oneness" — stronger economic cooperation within SAARC will help the Governments increase inclusiveness, as well as bring about sustained peace and security across the region.
According to Mr. Chandrajit Banerjee, Director General, Confederation of Indian Industries (CII), the taskforces will examine key areas for regional cooperation in greater depth, and will be led by CII partners from SAARC member countries. The World Bank will provide support for the planned follow-up actions to enable South Asian economic integration. Ms. Annette Dixon, Vice President, World Bank in South Asia said this effort underscores the role the private sector must play in integrating economies in South Asia.
CII arranged the 3-day South Asia Economic Conclave on 28-30 September 2015 in New Delhi, India to stimulate informed dialogue between the private sector and governments to promote regional trade and investment. The forum was supported by the Government of India and the World Bank, and attended by Ministers from Bangladesh, Bhutan, India, the Maldives, and Nepal, as well as business leaders from all SAARC member countries.

Related Links: