World Trade Report 2015 Highlights Importance of Speedy, Extensive Implementation of the TFA
26 October 2015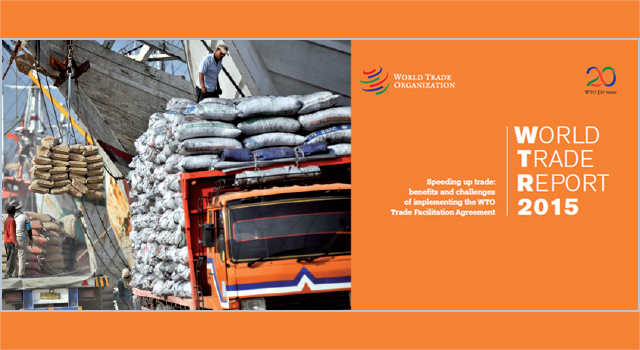 The latest World Trade Report launched on 26 October 2015 in Geneva, Switzerland is the first major study to comprehensively examine the benefits and challenges of implementing the World Trade Organization's (WTO) Trade Facilitation Agreement (TFA) since its adoption in 2014. It discusses the importance of speedy and extensive implementation of TFA, its economic impact, and the steps being taken by the WTO to enable countries to maximize its benefits.
Trade costs—particularly high in low-income economies—was identified by the World Trade Report 2013 as one of the factors that will shape the future evolution of trade. Hence, reduction in trade costs through trade facilitation will not only make the global economy more efficient; it could also increase both global trade and output. Speeding up the clearance of goods across borders could provide a big boost to trade in perishable agricultural goods; it will also improve predictability and increase lead time in delivery of manufactured goods in global value chains. The WTO estimates that TFA implementation could potentially increase global merchandise exports up to $1 trillion per annum.
The 2015 report underscores how extensive and speedy implementation of the TFA will lead to bigger gains, particularly for developing countries and least developed countries (LDCs). According to WTO Director-General Roberto Azevêdo, implementation of the TFA could have an even bigger impact on international trade than the elimination of all remaining tariffs.
Some key findings on TFA implementation with significance to developing countries and LDCs:
Global trade costs will decrease by an average of 14.3% with full implementation of the TFA. LDCs can expect to see the biggest average reduction in trade costs;
Speedy and comprehensive implementation of the TFA will greatly benefit developing countries, since both exports and GDP growth will rise more in developing countries than in developed ones;
The TFA will create significant export diversification gains for developing countries, including LDCs, and will open up opportunities to participate in global value chains through mechanisms including improving timeliness and certainty of delivery;
By simplifying trade procedures and reducing the time to move goods across borders, the TFA will boost the volume of goods flowing through Customs. It will also improve revenue collection by reducing avenues for corruption. Better trade efficiency will enable developing countries and LDCs to attract more foreign direct investment.
The TFA was the first multilateral agreement successfully negotiated by the WTO, which has adopted an innovative approach to make implementation more practical for developing countries and LDCs through special and differential treatment, and by including provisions allowing them to self-determine the timeline for implementing respective provisions and also what they needs in terms of related capacity-building support. The Trade Facilitation Agreement Facility (TFAF) was set up by the WTO to assist their developing and least developed country members, enabling them to reap the full benefits of the TFA.

Related Links: