Nepal Deputy Prime Minister Calls on India's Top Government Officials
19 October 2015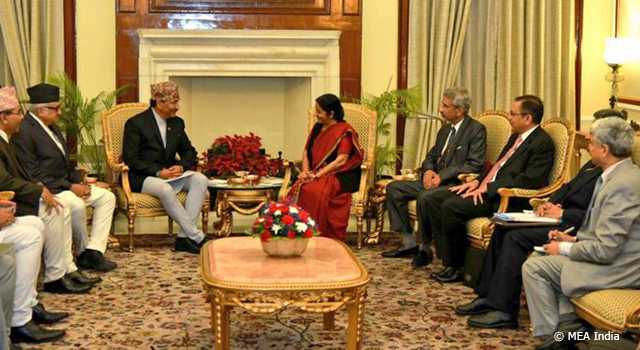 Officials from India assured Nepal Deputy Prime Minister and Foreign Minister Kamal Thapa of increased supplies of essential goods from India. Minister Thapa went on a 3-day visit to New Delhi, where he met with India Prime Minister Narendra Modi, External Affairs Minister Sushma Swaraj, and Home Minister Rajnath Singh.
Minister Thapa also requested the re-routing of 300 trucks at the Raxaul border in his meeting with External Affairs Minister Swaraj. Minister Swaraj said India has no issues about re-routing, provided border infrastructure in Nepal's other crossing points is ready to handle the volume of cargo.
Prime Minister Modi also congratulated Minister Thapa on his new role as the Deputy Prime Minister and Foreign Minister of Nepal. He conveyed his greetings and best wishes to the new Government of Nepal.
According to Minister Thapa, his visit has put Nepal-India ties on the right track by clarifying the two sides. He also gave leaders in India confidence that the Nepal government will move ahead to resolve their internal issues through talks and consensus.
Related Links: