Bangladesh Prime Minister and Sri Lanka High Commissioner Discuss Bilateral Cooperation
14 October 2015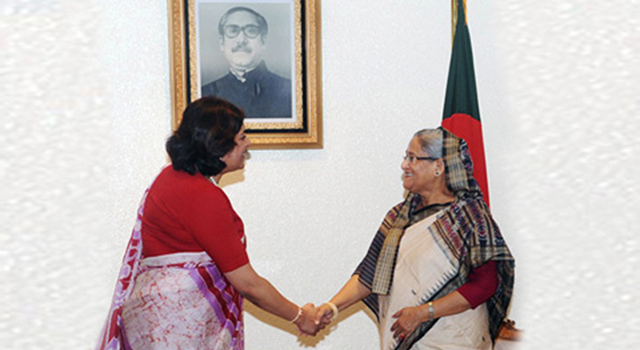 Bangladesh Prime Minister Sheikh Hasina and newly-appointed Sri Lanka High Commissioner Yasoja Gunasekera discussed bilateral matters during a courtesy call paid by the High Commissioner to the Prime Minister on 14 October 2015.
In the meeting, Prime Minister Hasina recalled the investment of Sri Lankan entrepreneurs in Bangladesh, and invited further investments and joint ventures in Bangladesh's 22 special economic zones. She also noted that Bangladesh is considering introducing a sea route involving Bangladesh, India, the Maldives, and Sri Lanka.
High Commissioner Gunasekera said there is scope to cooperate in power, shipping, and banking between Bangladesh and Sri Lanka. She also expressed Sri Lanka's interest to import pharmaceutical items from Bangladesh, lauding the country's pharmaceutical items that are being imported by many countries globally.
Related Links: