High-Level Meeting in India Stresses Need for Better Connectivity in the North East Region
7 October 2015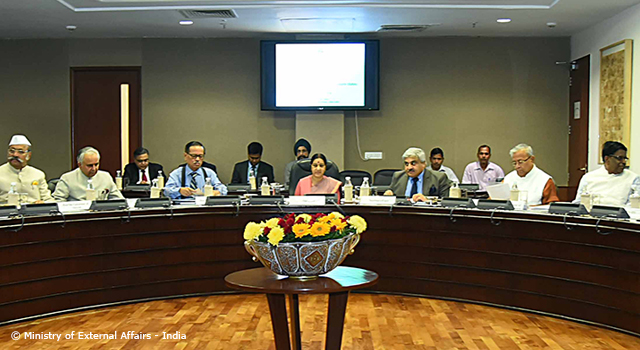 India's Minister for External Affairs Sushma Swaraj held a briefing in New Delhi, India on 7 October 2015 for governors of the North East region on the 'Act East Policy', covering key aspects such as (i) transport connectivity, (ii) border trade, (iii) regional production and value chains, (iv) necessary capacity building, and (vii) cultural and people-to-people exchanges. The Meeting is in follow-up to a recommendation by the Conference of Governors held in February 2015.
Minister Swaraj highlighted the 'Act East Policy' as a means to strengthen the economy and prospects of the region—India's land bridge to the ASEAN region—and discussed the impact of each of the key aspects.
The Meeting also stressed the need for better connectivity of the North East to a wider region, including Bangladesh, Myanmar, and Thailand, as well as Cambodia, Lao PDR, and Vietnam, and discussed ongoing and planned cross-border connectivity projects in railway, road, and water.
In attendance were Mr. JP Rajkhowa, Governor of Arunachal Pradesh; Mr. Padmanabha Balakrishna Acharya, Governor of Assam and Nagaland; Mr. V Shanmuganam, Governor of Manipur and Meghalaya; Lt. Gen. Nirbhay Sharma, Governor of Mizoram; and Mr. Shrinivas Patil, Governor of Sikkim, as well as Secretary (East) and senior officers of the Ministry of External Affairs.
Related Links: