Bhutan Prime Minister Calls for Partnerships to Help LLDCs
29 September 2015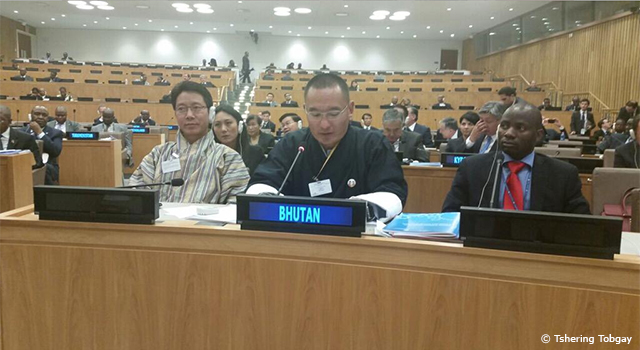 Bhutan Prime Minister Tshering Tobgay attended a high-level forum for landlocked developing countries (LLDCs) on 28 September 2015, on the sidelines of the 70th United Nations General Assembly, where he promoted partnerships as a means to help landlocked countries become land-linked to global opportunities. In a statement, the Prime Minister said it is possible to ensure a country is not landlocked economically, even though it is geographically bounded – the key is to ensure full trust and confidence with its neighbors.
He participated in the forum with Deputy Prime Minister of Nepal Prakash Man Singh. Both agreedon the need to further expand ties and friendship, and discussed possible areas of cooperation in communications, education, tourism, banking and finance.
While in the US, Prime Minister Tobgay also met with India Prime Minister Narendra Modi to discuss bilateral issues, including their partnership to fight climate change through India's imports of clean, renewable energy from Bhutan. By realizing their target to increase hydropower generation to 10,000 megawatts from Bhutan to India by 2020, they could offset around 35 million tons of carbon.

Related Links: