11th Asia-Europe Meeting of Customs Agrees on Goa Declaration
8 October 2015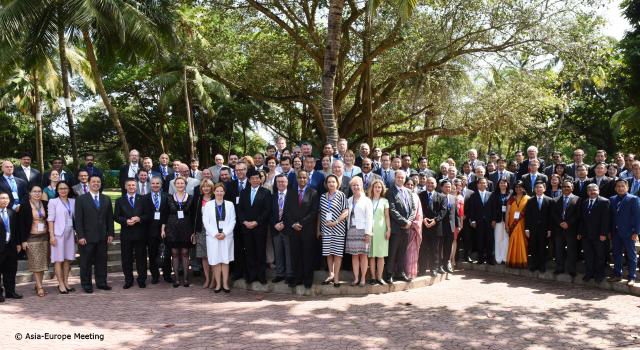 The 11th Asia-Europe Meeting (ASEM) of Customs Directors General and Commissioners met on 8-9 October 2015 in Goa, India and agreed on the Goa Declaration – a 2016-2017 action plan of 10 specific measures in the Customs field for participating administrations. The ASEM Meeting is held biennially to promote dialogue and cooperation among its 48 partners, review progress of the ASEM Working Group and provide guidance on priorities and the way forward. The outcome of this Meeting is presented to the ASEM Ministers of Finance
The Goa Declaration of 2015 details a commitment by participating Customs administrations to exchange best practices and capacity building in the areas of trade facilitation, supply chain security, Authorized Economic Operators, Coordinated Border Management, Intellectual Property Rights, Trans-boundary waste shipment, Joint Customs Operation against counterfeit goods, Paperless Customs, and Passenger Name Record. In addition, and in order to promote the Digital India campaign, India sponsored 'paperless Customs', which received wide support from the ASEM Members.
India and the Republic of Korea signed a Mutual Recognition Arrangement (MRA) to facilitate the Scheme of Authorized Economic Operators (AEO) that will boost international trade and speed up Customs clearances between the two countries.
The Goa Meeting saw the participation of 41 countries from Asia and Europe together with 2 intergovernmental bodies – the European Union and the Association of South East Asian Nations (ASEAN). The Meeting was inaugurated by Mr. Najib Shah, Chairman of the Central Board of Excise and Customs, India who highlighted the importance of responding to challenges posed by the fast changing world trade, safety and security requirements, and information technology and communication. Mr. Kunio Mikuria, Secretary General of the World Customs Organization (WCO) also participated.
The 12th ASEM Meeting will be held in Berlin, Germany in 2017.
Related Links: