Business Conclave Promotes Enhanced Connectivity between Bhutan and West Bengal
5 October 2015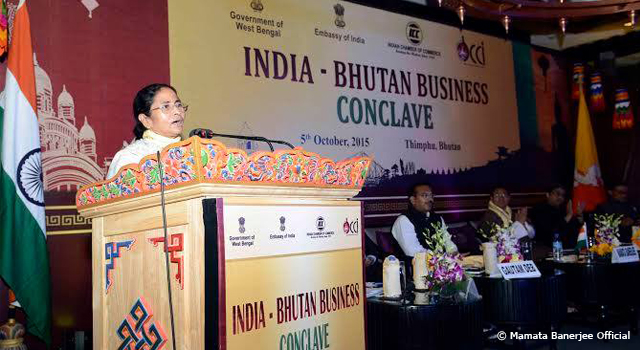 India's West Bengal Chief Minister Mamata Banerjee and Bhutan's Economic Affairs Minister Lyonpo Norbu Wangchuk deliberated on business possibilities between Bhutan and West Bengal, together with delegates from the Indian Chamber of Commerce and Bhutan Chamber of Commerce and Industry, in an India-Bhutan Business Conclave held on 5 October 2015 in Thimphu, Bhutan.
Promoting investments and partnerships among the delegations, Chief Minister Banerjee discussed the ease of doing business in West Bengal, including the readiness of its market and business sector. She also offered land in the state, should Bhutanese wish to set up industries with fast track registration.
The Chief Minister further highlighted how the two countries can complement each other – Bhutan's exports of dolomite and limestone could benefit metal industries in West Bengal, and agricultural produce such as mushrooms could be stored by Bhutanese farmers in West Bengal's warehouses and cold storage.
The Chief Minister also said delegates should explore a business corridor concept for tourism, small industries and joint venture projects, especially with the upcoming development of economic and transport corridors linking Bhutan, Bangladesh, India and Nepal (BBIN). Extensive development of road connectivity is already being planned among the BBIN countries and a BBIN protocol will be signed soon in West Bengal.
Making West Bengal a gateway to the North East will allow Bhutan to explore business opportunities beyond Bengal and India, said the Chief Minister. Open connectivity can boost trade and commerce for a landlocked country like Bhutan, and give people greater access to healthcare and education opportunities in Bengal and beyond, and help tourism opportunities flourish.
For his part, Economic Affairs Minister Wangchuk discussed Bhutan's business opportunities to prospective Indian investors, and approved a proposal from a private company, Graphite India, to set up a factory in Bhutan which will focus on the power intensive process of finishing graphite electrodes, taking advantage of the Himalayan kingdom's abundant electricity.
SAARC Development Fund (SDF) Chief Executive Officer, Dr. Sunil Motiwal, who also participated in the meeting, encouraged business partnerships between Bhutan and India, and said that SDF can fund joint venture projects, energy cooperation, and business corridors through its social funding window.
Related Links: