Bhutan Prime Minister and West Bengal Chief Minister Revive Talks on Indo-Bhutan Railway
5 October 2015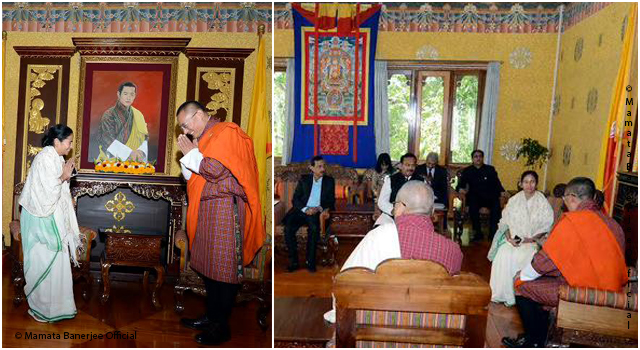 West Bengal Chief Minister Mamata Banerjee and Bhutan Prime Minister Tshering Tobgay renewed their commitment to pursue the Golden Jubilee Railway line from Hasimara, India to Bhutan during the Chief Minister's call to Prime Minister Tobgay on 5 October 2015. Both sides agreed to review the railway project, and examine ways to resolve land-related issues.
According to Prime Minister Tobgay, there is huge potential for Bhutan to work with entrepreneurs of West Bengal and also to form joint ventures in Bhutan.West Bengal and India are a potential market for Bhutan-produced goods, with trade between both parties benefiting from the existing free trade agreement between Bhutan and India.
Currently, a second highway linking Pasakha Access Road in Phuentsholing, Bhutan to Jaigaon in West Bengal, India is in the pipeline. Key outputs of the project include a five-kilometer road in India and two kilometers in Bhutan, and a Land Customs Station. Once constructed, the highway is expected to decongest traffic in Bhutan and India. The SASEC Road Connectivity Project is financing the road section in Bhutan.
Chief Minister Banerjee visited Bhutan on 5-9 October 2015 at the invitation of Prime Minister Tobgay. Aside from calling on the Prime Minister, she also called on Economic Affairs Minister Norbu Wangchuk and Foreign Minister Damcho Dorji, and met with Bhutan's private sector.

Related Links: