India Committed to Full Trade Liberalization by 2020
29 September 2015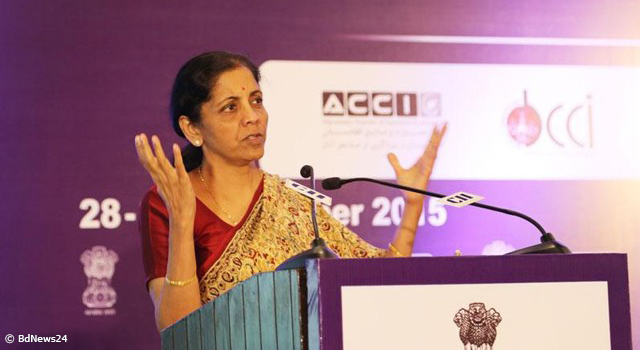 Speaking at the South Asia Economic Conclave, Indian Commerce Minister Nirmala Sitharaman said the process of South Asian economic re-integration had begun. She encouraged economies in the region to speedily work toward a free trade area with a defined timeline, preferably 2020, to achieve the joint vision of a South Asian Economic Union.
Ms. Sitharaman further highlighted that India is committed to total trade liberalization by 2020, and is working to ensure that its South Asian neighbors will be able to export to India on zero tariff. She noted that exports from least developed countries (LDC) in South Asia, including Bangladesh, increased substantially after India opened the Duty Free Quote Free (DFQF) facility. This policy is in line with India Prime Minister Narendra Modi's "Make in India" campaign, and promises to enhance South Asia's manufacturing by creating regional value chains.
While India has already allowed duty-free access to goods from LDC countries of South Asia as part of the South Asia Free Trade Agreement (SAFTA), it is ready to go to 100% for non-LDCs, too, as per the SAFTA roadmap agreed by India with Pakistan in November 2012.
The South Asia Economic Conclave was organized by the Confederation of Indian Industry on 28-30 September 2015 in New Delhi, India. Ministers from different countries in South Asia, business leaders, leaders of multilateral development banks including the Asian Development Bank and the World Bank, and media representatives took part in the dialogue on economic integration.
Related Links: